I LOVE massages, facials, being pampered….I mean, who wouldn't enjoy an hour or a day of complete relaxation. They couldn't fit us in together this time so The Husband went first and I went shopping….What's a girl to do when she has an hour to kill. I scored some more great clothes that were on sale so the wait was worth it (well, to me, it was! 😀
The Husband had my Masseuse ask me if I was ready for my "sausage" – nice! 😀 Today's massage was absolutely amazing, but, the only bad part, is trying to go back to what you were doing BEFORE the massage. We were both pretty lazy, but, managed to whip up a quick lunch.
To start, I made up a quick 1/2 batch of The Jump Start Icy Gazpacho with Fresh Lime. You can get the recipe by clicking HERE! I am not a huge fan of gazpacho, but, The Husband loved this recipe.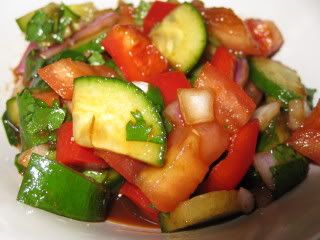 I ate a few bites before giving my serving to The Husband. I changed up my sandwich a little as well. I did 1/2 and 1/2 with lean turkey/ham and used Ezekial Bread instead of a pita.
All together with some fresh sparkling Perrier ~ The most important thing after a massage is lots of water to flush out the toxins.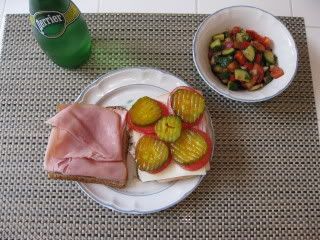 We relaxed and watched a movie for the rest of the afternoon before I hopped into the kitchen to prep food for this week.
Oh ya, I owe you all the Jump Start workout today – yeah, just an ab day, no cardio – woohoo! This circuit was done twice this morning before our massages.
* Alternating Leg Press outs (20 x 2)
* Crunches (20 x2)
* Reverse Crunch (20×2)
* Bicycle (20 reps each side)
* Superman (12 reps)
Followed by static stretching – chest stretch, lower back stretch, side bend, diagonal rotation. It was a touch ab workout and my abs are feeling it.
This afternoon I made up the Jump Start Easy Raspberry Sorbet for snack. You can click HERE for the recipe. I served mine up with 2 Tbsp raw almond slivers. It is not too bad, but, you definitely need to make sure your fruit is sweet to truly enjoy it.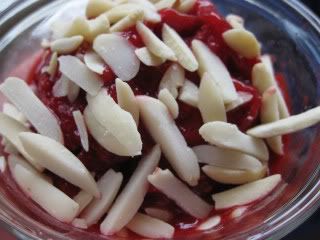 Coming up next ~ Another Fabulous Cinco De Mayo recipe that I guarantee you will want to make!