My friend Rachel and I decided last week that we were going to attend the Hungry-Girl Book Signing in San Francisco this month. We also heard that Hungry-Girl is going to be featured on The View From The Bay and The View picked us to be in the studio audience that day!!! I am beyond excited as I have never been in the audience for any show ever! It's going to be such a fun SF adventure going to ABC then going out to eat at a fabulous restaraunt in the city and then going to the Hungry-Girl Book Signing – yahoo! Needless to say I have been bouncing off the walls all day after hearing that news. On that note, I'll get down to my eats so far today.
This morning I had an another amazing snack brought to you by Kavli Crackers. This time I used the Hearty Crackers and make up little turkey/cheese mini sandwich crackers.
3 oz 99% ff Turkey
1 oz TJ's Lite Havarti Cheese
2 Kavli Hearty Crackers
Freshly Ground Pepper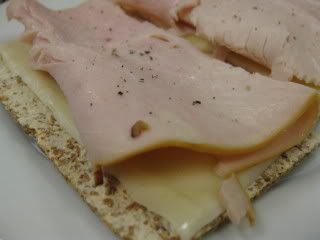 This was such a satisfying and crunchy snack! It kept me going all the way until we decided to head out to lunch today to Celebrate The View News!!!
Can you all guess my favorite way to celebrate? Sushi!!! Yes, I know I complained about the Jump Start fish week but this is sushi ~ the exception and it rocks!
Especially if you are going to SUSHI MAMBO!
It sort of goes with my Jump Start Plan for the day because I was supposed to have 2 c of Miso Soup (which I made last night!) plus mixed greens with that fabulous Asian Peanut Dressing.
I DID start off with a fabulous cup of Miso Soup ~ the real deal is so much better than homemade.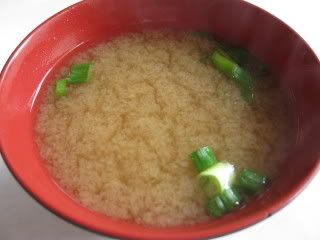 Followed by a crisp green salad with miso dressing for my veggies (still on track here!).
Then, I indulged a little with 1/2 this High Roller Roll with AVOCADO added – soooooo good!!! How I missed sushi!!!!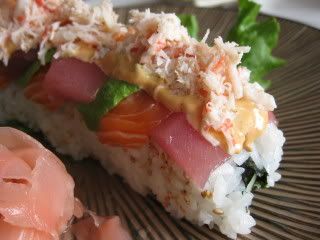 And of course The Famous Volcano! I had half of this spicy 5 seared fish volcano over sushi rice – this is probably my favorite dish at Sushi Mambo.
Ok so the last two things were not part of the Jump Start plan at all and I will definitely get a good workout in tonight to burn it off. But, you know what ~ today also marks the 1/2 way point since I started the 30 Day Jump Start diet so I should recognize that with a little celebration, right 😀 LOL…..
If you haven't already entered as many times as you can (up to 4 times) into my Annie's Mac & Cheese Giveaway, be sure to click HERE and do so now!
See you all tonight after my workout, another fabulous dinner recipe and hopefully BEFORE The Biggest Loser!