I have the MOST awesome friend in the whole wide world!!! She said she got tired of seeing my work plates on my blog so she went to Pier 1 and bought me some cool new "tools of the trade" to use. The only catch is I have to keep them in the office 🙂 LOL.
How cute are these?! LOVE the mini bowls and the fun patterns on the plate. You totally rock, Rachel!!!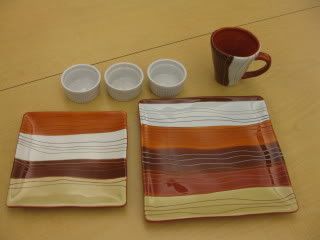 Of course my new plates had to make a guest star appearance today for breakfast. I started off with some fabulous fresh berries.
And made up a breakfast scramble with (1 egg, 2 egg whites, bell pepper & onion).
I used my Thomas Double Fiber english muffin to make an eggwich out of my scramble.
All together with some half caf coffee using my super cool new plate and mug! I think I was smiling my entire breakfast just looking at my fun new plate & cup!
I am so excited to report that I broke the 3K mark & rocked my steps yesterday. Here is my quick recap:
Calories Burned: 3,122 (I Heart You, Body Bugg!)
Steps taken: 17,314
Calories Consumed: Hopefully near my 1,500 that was planned but not sure due to the cake intake!
I definitley think it helped getting up at 4:30 AM but you know, I will take it for what it's worth!
TODAYS FUN NEWS (other than It's FRIDDAY!!!):
* Here is a fun article from Women's Health about 10 ways to Save @ the Super Market. Click HERE to learn how you can save.
* If you live in the City (San Francisco or nearby) be sure to "Come Play In The Streets" this Sunday at 10 AM. The streets along the Bay will be closed and everyone is encouraged to get out and walk. Click HERE for details! What a great idea – LOVE IT!

Be sure to check back later as I will be giving review #1 of 2 for the Sonoma Crisps! I guarantee you won't want to miss it.
Have a Fantastic Friday ALL!