Are you as shocked as I am to hear me say that? I cannot believe I found my first cooked fish recipe (especially Salmon) that I LIKE and it isn't sushi related. I made up these fabulous 4 WWP burgers last night from the JUMP START Book and modified them a bit. Click HERE for the recipe.
The only modification I made to the burger was to use yellow curry for the coriander. Instead of using the Tahini Sauce they had in the book, I made up my own burger topping.
6 Tbsp crushed pineapple, undrained
3 Tbsp FF Greek Yogurt
Top as needed and feel free to use extra pineapple as this reallhy adds a good sweet flavor.
I used an Ezekial Bun topped with spinach and tomato. All together for a total of 6 pts.
For dessert I had 1 cup of grapes ~ Arn't these the hugest red grapes you have ever seen? A fabulous 7 WWP lunch that was so easy to make.
After lunch we were off to pick up The Husband as he was our token Car Pool Person. He is such a trooper – he went to support me but also so we didn't have to sit in traffic. In San Francisco it takes 3 to car pool ~ Thanks, Hubs – you rock – love ya!
We arrived in San Fran with time to spare so we headed over to this little American Pub with a Great Name ~ Grumpy's American Pub.
I LOVED the atmosphere. I do wonder how all the dollars got stuck on the ceiling – how many drinks does it take to get a dollar up there? 😀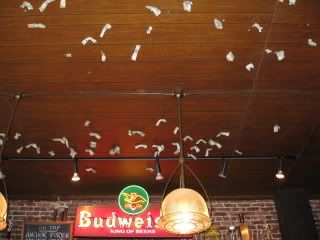 Rachel LOVED the sign and wanted to take it home to post for her kiddos to see.
The Husband was up to his clowny self when I told him he was going to have to take pictures. Can you believe he eats the lemon peel and all every time?
He had a BLT with potato salad and some fries for us to share. I had a couple of these but they were eh, ok, not worth the calories and I was still full from my lunch. We didn't end up getting drinks since the studio said you wouldn't be able to leave for bathroom breaks at all (for 2 hours ~ gasp!).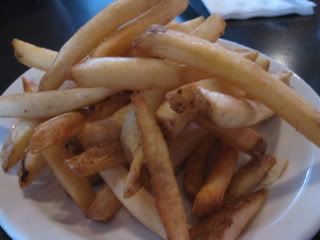 We headed over to the ABC studios next. I have decided to do a separate post for this in order to do it justice ~ too much fun stuff, not to share it all. Up next ~ Our dinner before the Hungry-Girl Book Signing.