That was my first thought when I saw the Jump Start Dinner menu ~ yes, it's not fish! I have been enjoying my dinners but I think fish was on the menu almost every day. Now if it was sushi……LOL.
Tonight, I started off with a crisp salad with organic romaine, cherry tomatoes, cucumber and AVOCADO topped with TJ's Lowfat Cranberry Gorgonzola Walnut Dressing.
Tonight's meat selection was Italian Flank Steak with Roma Tomatoes. Click HERE for the recipe. The store did not have flank steak so I improvised with a lean Tri Tip Sirloin. I think it turned out look just as fabulous.
I had a nice serving size for one serving.
Instead of roma tomatoes, I roasted up some organic cherry tomatoes in a foil packet sprayed with nonstick spray on the grill to go on the side.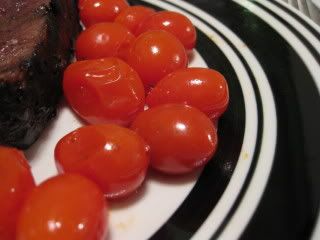 The absolute star of the show for ME was TJ's Organic Brown Rice. This is my absolute favorite of all time because it's easy to make. It's pre-cooked – you just cook it in the bag for 3 minutes and it's done. It does not taste anything like instant. I highly recommend this product if you can get it at your Trader Joe's. Mine sells out almost every day they stock it – it seems like.
All together with some Perrier and scratchers that The Husband picked up for dinner time fun. Can you believe this is the first time we have been able to have dinner together in 2 weeks – So glad he is done with nights.
We decided to break out our movie snacks and head to the living room. Can you guess??? I figure since I didn't have my afternoon snack, I definitely earned some Circus Cookies!!! I shared these with The Husband.
And then we got a little cookie silly deciding to make a mini FroYo Circus Sandwich.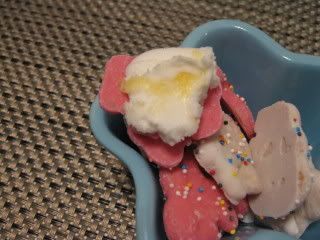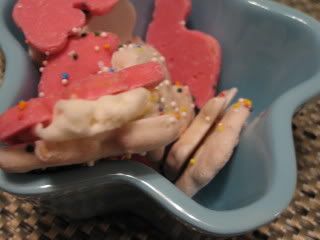 They definitely taste better just as they are and shocker – not stuffed with ice cream (ok, FroYo!)
You know what – the nutritionals are not that bad at all. 3 points a serving and definitely a treat versus something that will fill you up. Who cares though – they are FUN and bring back childhood memories.
Thanks again Foodbuzz for sending us the best cookies in the universe ~ WE LOVE THEM!!!
Be sure to look for these fun Circus Cookies beginning May 4th when they hit the shelves and have fun being a kid again!
P.S. I have 2 workouts to make up this weekend since I missed yesterday & today….stay tuned for the recaps and some great calorie burns this weekend.
Alright, I am off to get some snuggle and TV time with The Husband. We have a fun and busy weekend ahead including MASSAGES on Sunday – I can't wait!