For as long as I can remember, The Husband and I always refer to a massage as a "Sausage". I was asking him this morning how it got started, but, we both don't remember. The part that is funny about it is that we offer to give each other a "sausage" all the time. It goes something like this, "You want a sausage?", "Yes, I'll take any sausage", "Is a 5 minute sausage good?" Or last night while walking in the mall, he asked me if I could give him a "sausage" when we got home ~ without thinking that there were people around us! LOL. Can you just imagine how this sounds in our household and if you didn't know we were talking about a massage?!? 😀
Today we are actually going to get REAL Massages and I MUST remember, it's a massage…must tell the girl we have massages 😀
I tried to hold off for as long as I could to have breakfast since I won't be eating again for awhile due to our massages. I powered up with a nice protein breakfast so it should hold me over for awhile.
I started with 2 Kashi Strawberry Flax protein waffles (3 WWP for 2).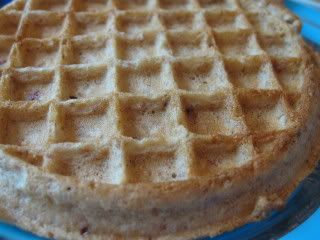 Dipped in creamy, thick TJ's Fat Free Blueberry Greek Yogurt (2 WWP all)
And another Perfectly Hard Boiled Egg topped with freshly ground pepper and sea salt.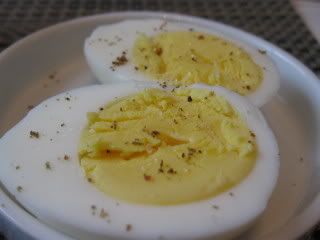 All together with 8 oz of fat free milk. I also had some Cinnamon Vanilla Nut Decaf coffee but I drank that as I was running around doing things this morning.
My quick recap for yesterday is pretty good – wish I knew I was sooo close to 3,000 calories burned because I would've done the happy dance to get them up a bit 🙂
Calories burned: 2,969
Steps taken: 13, 493
Calories Consumed ~ Not sure on this one since we dined out – hopefully I burned off enough to offset the undulging.
I am off to quickly shower then to get our sausages….Massages! Catch you all this afternoon when we get back after lunch. I will post today's workout then as well.