Happy Saturday all! This weekend we are supposed to get over 100 degrees with today starting at 96 – booo! I am all about warm sunny weather but not THAT hot. I am on day 27 of the Biggest Loser 30 day Jump Start plan and have only 4 days left – yahoo! I know I haven't had time to post my workouts and such but I have been alternating cardio and strength training days every other day with 1-2 days off plus my 100 crunch resolution. I didn't want you all to think I forgot about you.
Today I went to my Weight Watchers meeting again after taking a month off and I was thinking, why did I take a month off – I missed everyone! Especially our receptionist who always remembers me and is always so glad to see you come back. The topic today was about Metabolism and ways to boost it through activity and such. I have to say I LOVED the quote at the end:
"People say losing weight is no walk in the park. When I hear that, I think, THAT's the problem!" By Chris Adams….so funny.
I couldn't resist picking up some of the newest things since I was last there – can you guess what was on the list? A new cookbook!
Just look at some of the samples on the back! The pictures in the book look so amazing – I can't wait to start using it!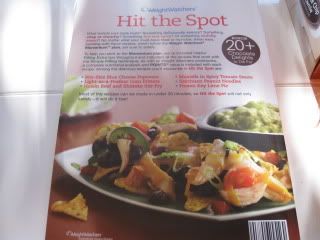 And the cutest plush toy ever ~ "Meet Hungry!" He is going to keep me company in the kitchen I think 🙂
When I came home, I decided to go with a light and fresh 5 WWP Jump Start breakfast. I started out with 1 c Kashi Heart to Heart, 1/2 c of my farmer's market strawberries and 1 c ff milk.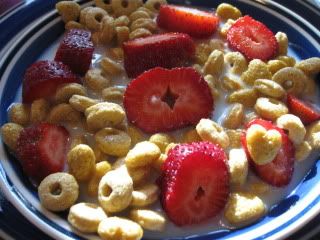 Along with 2 slices of TJ's 97% FF turkey bacon for 1 WWP (60 calories, 1 g fat), water and decaf Cinnamon Vanilla Nut Coffee.
Today is all about tackling my 33 item todo list! See you all later!