I think summer is here to stay ~ today our temperatures topped 96 degrees and it definitely felt like it when I walked in the door. I wanted something fast, simple and cool for dinner ~ Out of the options I gave him, The Husband picked one of his favorite meals.
Taco Salad!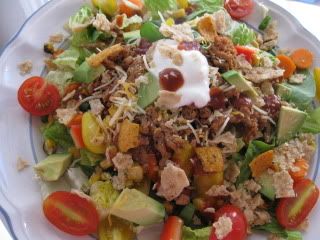 Here is a list of all the layers of fun you will need to create your own Taco Salad
Lean Ground Turkey browned with a little red onion & topped with the BEST Taco Seasoning EVER ~ click HERE to make your own using Veggie Terrains – LOVE this stuff! Her Chick Pea Tacos in the picture rock too – that was the first time I used this seasoning!
Romaine
Spinach
Red & Yellow bell pepper, chopped
Carrot, thinly sliced
TJ's Fire Roasted Corn
1 scallion, sliced
AVOCADO, sliced
Sprinkle of TJ's Lowfat Mexican Cheese Blend
A dallop of TJ's 0% greek yogurt
Hot Sauce sprinkles
Lundberg Rice Chips, crushed & sprinkled on top
All of the above = LAYERS of fun eating!
MMMMMM ~ Avocado! Oh and The Husband threw on a couple of his Chili Cheese Fritos because he said "they added color" to my picture LOL.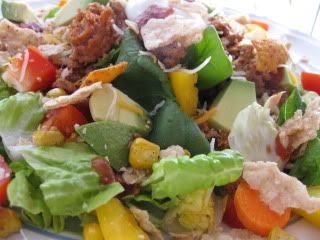 One of my favorite reasons for making this recipe is that I make up a 3rd salad for the next day at the same time for lunch. Only this time, I am using my Vegan Spicy Black Bean Burger (check back tomorrow for pictures and reviews on that!)
Phew ~ my goal was to be finished by 9 pm so I can get in a WHOLE hour of reading before nite, nite time! I am off to read, relax and enjoy the rest of my night! See you all in the AM!