Happy Saturday all! I am so excited that we have NO plans/commitments this weekend and can maybe find some time to relax – yeah! After passing out last night at like 9 pm (such a party pooper huh), I woke up today at 5:45 am wide awake. So much for Saturday morning sleeping in LOL. I packed up my Morning Burst (lemon & hot water) to go to take to my Weight Watcher meeting.
I decided last night that I was going to weigh in backwards and told my favorite WW receptionist to not tell me what my results were. I didn't want to have it impact my Bikini Bootcamp motivation whether I did good, or not as good as I thought or what not. She did tell me my results, but, said to keep it up, I did REALLY GOOD! Ahhhh, the suspense, it's killing me! But, I will NOT look….I am going the full 2 weeks, 14 days without stepping on the scale (total scale withdrawals I tell ya!)
When I got back home, I whipped up a quick Banana Smoothie for breakfast.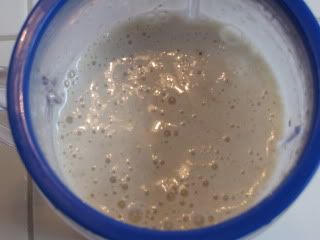 1 c ice
1 small banana
1/2 c lowfat "homemade" greek yogurt (RECIPE COMING SOON!)
2 tsp honey
1 tsp ground flax seed
It was absolutely delicious and refreshing. I am surprisingly full too – yeah for that! I know I will be getting a decaf coffee at The Bucks (Starbucks) today because I told The Husband I'd buy him one for helping me drop off my car to get my breaks done and taking me to the Farmer's Market.
Quick recap for yesterday (not bad considering I couldn't wear my BB for 3 hours while it charged):
Cal burned: 2,868
Steps taken: 11,106
And the Mr. Krisper's Giveaway winners are (drumroll, please…..):
# 6 kristi said.."I have never seen these before, I would love to try! And, at 2 points you can't beat that!"
# 9 Ashley and Bo said…"I just twittered and linked!" (Sour Cream & Onion)
# 20 C.G. the Foodie said…"I linked you to the top of Uncovering Me! (BBQ)whoiamuncovering.blogspot.com"
# 34 hopskipleap said…"linked: http://hopskipleap.wordpress.com/2009/06/05/1st-times-for-everything/"
Congratulations ladies!!! Please email me your snail mail addy so I can get the good out to you all. Kristi & Hop – you both get to pick from the remaining 2 flavors (Sea Salt & Pepper or Nacho). The first to email gets first dibs.
All of these ladies have fantastic blogs, be sure to click on their names and check them out.
Thanks everyone for playing along in my Mr. Krispers giveaway!
No worries if you didn't win Mr. Krispers, you can sign up to join us for Bikini Bootcamp Month and be entered to win a FREE copy of the Bikini Bootcamp Book. Click HERE to find out how.
We are off to get our day started ~ Farmer's Market here I come! See you all for a fantastic salady lunch!