Sorry all for neglecting you today and not coming back to post until now. My day has been nonstop and this is the first chance I've had to sit down to blog. I promise to make it up to you with LOTS of pictures and little words plus some fun stuff plus recipes ~ deal?
This morning I snacked on 1 cup of that crunchy sweet watermelon & cantaloupe The Husband cut up for us.
With 2 Lite String Cheese Sticks…I am not sure why the Jump Start has you eat two but I have no complaints on that one 🙂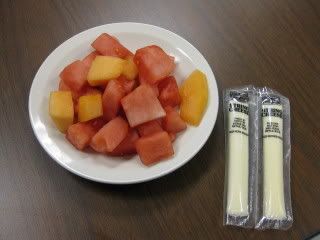 I was honestly NOT looking forward to lunch too much – figured I'd go away hungry like yesterday. But, you know what – surprisingly this lunch was soooo filling and VERY tasty! I started off with a Laughing Cow Light Cheese Wedge (only 35 calories!) on a toasted slice of Ezekial Bread with a little freshly ground pepper ~ Yum! This was awesome for dipping in my soup too!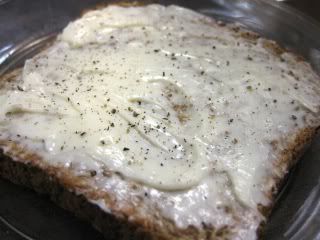 I made up a modified version of the Jump Start Mushroom Soup last night and I have to say this might be one of the easiest, yet, tastiest soups I've ever made. This recipe is VEGAN – yeah! I had a nice 1 3/4 cup serving with lunch.
The recipe only includes a few ingredients but they go so well together. It amazes me how slightly blending the mushrooms makes the soup creamy and thick. I'd definitely make this one again and each serving is ONLY 70 CALORIES!!!
1 Tbsp olive oil
1 medium yellow onion, chopped
1-2 cloves minced garlic (optional)
12 oz white or brown mushrooms, cleand and slice (4 1/2 cups sliced if using shiitakes, discard the stems)
1 tsp chopped fresh oregano or 1/2 teaspoon dried
4 cups fat-free, low-sodium chicken or vegetable broth
Sea Salt & Freshly Ground Pepper to taste
In a 3-quart sauce pan, heat the olive oil over medium heat. Add the onion and cook for about 5 minutes, or until it's soft but not browned. Add the mushrooms and oreganco and cook, stirring regularly, for about 2 minutes or longer, until the mushrooms soften. Carefully add the borht and bring to a boil. Immediatly reduce the heat to low, cover partially, and simmer for about 20 minutes.
Let the soup cool, then transfer it to a blender or food processor and blend or process until smooth. Return it to the saucepan and reheat before serving.
Makes 4, 1 1/2 cup servings
Per serving: 70 calories, 4 g protein, 6 g carbs, 4 g sugars, 4 g fat, 0 g sat fat, 0 mg cholesterol, 1 g fiber, 245 mg sodium
This lunch actually kept me going all afternoon. I snacked of a few of these Lundberg Pico De Gallo Black Bean Rice Chips to crunch my stress away. They were completely unnecessary but I traded my afternoon snack of a pear w/1 Tbsp of Raw Almonds to balance out the calories a little.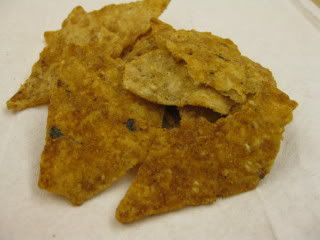 I came home today to some absolutely FUN mail….that is coming up next!