Do you all know that song by The Commadores, Brick House? The Husband is a total clown, seriously! We picked out Nichia siding for our house to put on our front to frame our new round cement steps and do a wall border. We received samples from the rep this week and he was walking around the house singing this song WITH the samples. I snapped a few pictures of my "Brick House"…..LOVE him!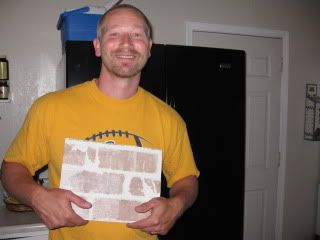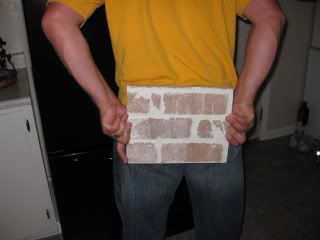 He is such a clown! Actually, here is a picture that the super cool sales rep sent us of an example using the style and color of fiber cement brick we are using. This isn't a picture of our house, but, this is one of the ways we plan on using the brick. Doesn't it look cool?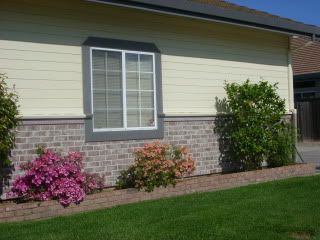 I cannot wait to install it and show you all how cool it looks! Tonight we decided to have a little fun. We stopped by so I could buy some lotto tickets for tonight and tomorrow before heading out to one of The Husband's favorite places, M&S Tasty. I figured I'd let him choose since he has been a trooper Bikini Bootcamping it with me. I picked a Grilled Chicken Salad with Thai Peanut dressing on the side.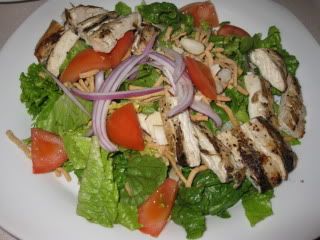 It was light and tasty! After that we were off to see the new movie, The Hangover. OMG, this movie was soooooo hilarious, however, it isn't for the faint at heart. It's definitely an R rated movie and in the category of Super Bad, but, it's funny. We loved it and actually want to buy the DVD to see all the "cut" scenes 🙂
Tomorrow I am heading out in the morning to my WW meeting for another backwards weigh in. Then, we are off to help our friends install their laminate flooring. I will be back tomorrow night with a full recap of my day if I don't make it back during the day. I STILL plan on sticking to my Bikini Bootcamp Routine Morning Burst, BBC breakfast, Salad for lunch and BBC snacks and dinner. 2 days to go…….Woohoo!
Have an awesome Saturday and enjoy whatever you all are doing. See you later!