I am working along on my todo list at a snails pace….getting things done, but, of course, not as quickly as I like. I wish I could move faster but, today I am struggling to get over the "hump". Tomorrow will be better I am sure.
I did just get back from a nice long, 4 1/2 mile walk in our blazing 70+ degree heat – it's so nice out, I LOVE it! But, it makes me not want to go back inside.
For lunch I went with something simple and easy as my brain was not functioning this morning.
I had an Amy's Whole Cheese Enchilada Meal which I absolutely LOVED! It was so cheesy and the tortilla seemed like the homemade kind you would get at a real mexican food place. You could taste the salsa and cilantro in the black beans while the corn added just the right amount of sweetness to the mix. I would absolutely buy this again! The only problem with this meal is that it just isn't quite photogenic…..I took pictures, but, figured you all would be like, what is that?! LOL. So for now, you all will just have to click the link above and that is what it "looks" like 🙂
I paired it with some cuties which my boss informed me do not go with mexican food. Really? I never gave it much thought, but, they did take a nice picture.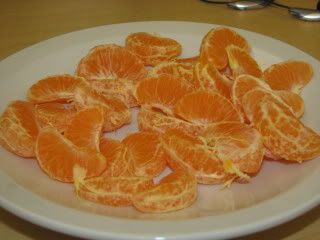 I was finally ready for something sweet for dessert, so I broke out one of my Mock Tag-Alongs from last night.
OMG – this was so good. I have decided this recipe is just going to have to be included in the bake sale somehow. Maybe I'll do a variety pack? Hmmmm……I think I would love to have alot of options if I was bidding on something.
What do you think? What would you like better – all the same or a mixture of treats?
Tonight I am trying a new easy, recipe so be sure to check back for that. I am not sure if I am baking or taking the night off – we will see. The Husband has the day off and is off playing poker so I may use that time to bake or to relax. Decisions, decisions…..