Happy Hump Day all! The week is officially 1/2 over and I have only 1 more work week left before we Viva Las Vegas – Yahoo! I cannot wait (if you haven't noticed) 🙂 No worries though because I am in the works of having some great posts for you all to check out by special guest posters as well as recipes to entertain you while we live it up in Vegas and The Grand Canyon.
This morning I was originally thinking of a Pineapple smoothie, but, by the time I got to work I had changed my mind. It has been a while since I've had a Vitatop so I decided it was time for some Cran~Bran Vita Love!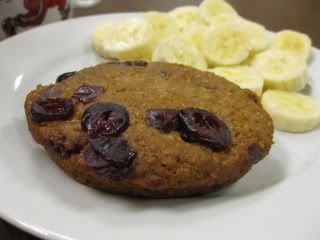 !00 calories, 1 Weight Watcher Point and full of BIG sweet cranberries. I popped my Vitatop in the toaster to warm it up and then topped it with some HOMEMADE ALMOND BUTTER. Step by step recipe for making the best almond butter will be coming up during my Vegas Vacation…..there is a trick you all need to follow – once you do this step, you will definitely NEVER want to by store bought again.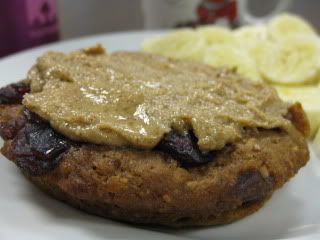 I also had a side of banana chips.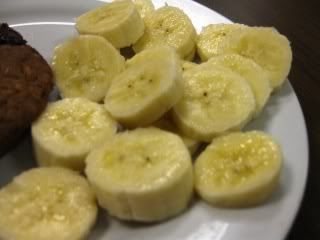 This was a fun breakfast to start my day. I think I'll save my smoothie snack for this afternoon or a Pineapple Swirl mid-morning.
Today I am going to brave Body Step! Has anyone ever taken this class? I am completely scared since I am always that person going the opposite way in step class 🙂 Oh that and the trainers who teach it say it makes them sore!
TODAY'S FUN STUFF:

* Since this is Bikini Bootcamp Month I thought it would be a perfect time to share some Sexy Bikini Body Foods ~ Click HERE to check out this great article from myrecipes.com.
* Have you ever wondered what it would take to burn off that Margarita? Click HERE to find out.
* TWO Nut Butter Giveaways ~ Click HERE and HERE!
* An Element Bar Giveaway ~ Click HERE!
You have TWO days left to enter my Holey Donuts Giveaway! Click HERE to tell me why you want to have THREE BOXES of lowfat healthy donuts.
Have a great day all ~ we are on the downward slide toward the weekend and I cannot wait. We have the COOLEST plans this weekend that I cannot wait to share!