The Husband has been proudly building my pantry shelf for about a week now. The one he decided to make for our 5 year anniversary. He is making it from scratch and has such skill. Here is a picture of his work in progress (in his messy shop but it's HIS shop lol). He is going to add some decoartive moldings before painting it, lining the shelves and doing pull out shelves for my spices – yeah!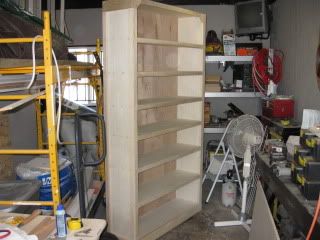 I took a break mid morning for a 2 WWP snack – 1 c of juicy watermelon and a 3/4 oz Light Cabot Cheese Stick (check dairy off the list for today – yahoo!)
The Husband being the awesome Husband he is, offered to help me clean the house! Woohoo – so we challenged each other to clean our entire house and be finished by 1 pM to head out to lunch. He got the easy parts – dusting, vacuuming, sweeping while I tackled all the scrubbing in the kitchen, bathroom and their floors. I also did some organizing, picking up and laundry – I am so counting cleaning as my activity today.
After I speed cleaning, we headed out to Vasquez Deli ~ The Husband's favorite mexican place. I told him I'd reward him for his help. I LOVE this place – everything is homemade including the tortillas. The service is great and the food is reasonably priced.
I ordered two salsa chicken tacos:
4 homemade tortilla chips with a little bit of the beans and cheese.
And a slice of The Husband's Cheesy Quesadilla (one of the best creations ever). Check out how thick their flour tortillas are. Soooo good ~ this BLT was entirely worth it!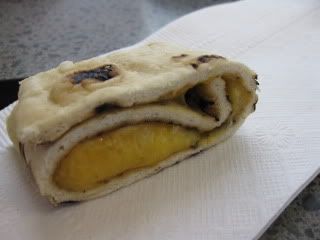 We did some shopping at Lowe's to pick out our rock siding for our house and stopped at Walmart for more cleaners, a book and more magazines – yeah! I am checking a ton of things off my list but still more to go!
See you all for dinner ~ I am thinking BBQ is in order to keep the heat out of the house. The car thermometer said 103 degrees while we were out and it feels like we are in the desert for sure!