Tonight I had to make a quick dinner since I still have work to do tonight~ Boo! My incentive is to get done in time to watch The Bachelor Tell All. The husband gets credit for helping to make our Black-Bean and Corn Soup with homemade tortilla chips. Of course he might have had a little incentive since my co-worker's husband sent some steak home with me for him to have (he was a happy boy for sure and ate it before we even started dinner!) We pretty much followed the recipe, however we doubled the veggies, added red bell pepper and used Trader Joe's Fire Roasted Corn. This was so flavorful and easy to make. The Husband loved it too – he ate all but my bowl and left me one serving for lunches 🙂
Toppings included Veggie Shreds Soy cheese, avocado and cilantro.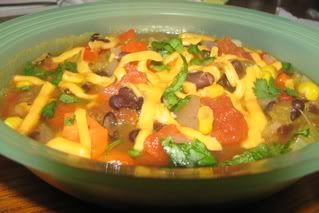 Now for my favorite part of all. Home-made tortilla chips are so simple to make and so tasty. We took 4 tortillas, cut them into 12 pieces while you preheat a nonstick pan with 1 tsp canola oil per tortilla used. Add a single layer of slices and cooked them until crispy. Remove and sprinkle with sea salt – so good. My plate had 1 tortilla's worth and the husband polished off the rest.
Yum ~ crunchy+salty= LOVE!
Alrighty then ~ I am off to hopefully finish up some work so I don't have to go in early or miss my show. I LOVE that The Husband is doing the dishes, cleaning, etc so I can work 🙂 I am still a little hungry so I am sure one of those fabulous cookies will find its way to me in a bit.