I have to say I gained a new respect for concrete workers today. We managed to jackhammer 20 feet (yup, that's it!) into rock pieces, pick them up and haul them away today. This is only like 1/3 of our driveway as our driveway is close to 70 feet long – the concrete is like 6 inches thick. We came to our senses mid afternoon when the concrete guy came by and said he could use his tractor to dig it out and take it away. Checkout my Body Bugg stats for yesterday – this WAS my only workout too.
Calories burned, 3,053
Steps taken, 12,193
We took a break mid day for lunch. My lunch was so tasty and fun with alot of crunch. I decided to give the Tribe Spicy Chipolte Hummus I bought last week a try and made up a BBQ chicken wrap with the leftover BBQ chicken breast.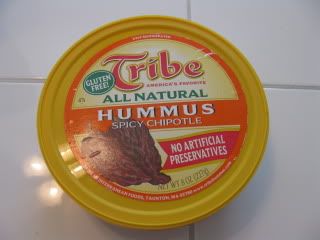 The nutritional specs are great – LOVE how it is 100% clean and very low cal/fat/WWP – 1 PT a serving.
I LOVE the smoky/spicy flavor the hummus gave my wrap, however, I am still trying to decide how much I liked it on it's own.
This wrap was so simple and easy to make – it's perfect whenever you have leftover chicken to use up.
1 salsa tortilla
2 Tbsp spicy chipolte hummus
2 oz chicken
1/4 avocado
a few slices orange red pepper
a few sliced cherry tomatoes
drizzle of Annie's Swwet & Spicy BBQ sauce
Wrapped up and ready to go!
I had the rest of the orange bell pepper plus some sugar snap peas on the side. (0 WWP)
With some awesome cherries on the side (1 c for 1 WWP)
This definitely hit the spot!
So I have to share with you all something that was truly an awareness moment for me yesterday. When we went to the dumps to take drop our concrete off I learned something new. The dumps use the concrete to cover up/bury everyone's waste. When you looked out over the hills all you saw was ALL these plastic grocery and trash bags and it looked like everything else has bio-dgraded. I know that you can recycyle plastic bags, but, did you know that it takes over 500 years for plastic bags to decompose? Click HERE to read an interesting article about this. This honestly made me want to continue to boy cott plastic bags and use my reusuable grocery bags everywhere.
Ok ~ I'll get off my soap box now and move on to my poker party/BBQ post!
Click HERE to enter to win a signed copy of Hungry Girls latest book!