Tonight we headed over to our friends house for a little BBQ and poker party fun! Normally I'd make something to bring, but, since I was slaving away ALL day helping The Husband out, we stopped to pick something up. My favorite BBQ recipe to bring is either my VEGAN Pasta Salad or my Healthier Potato Salad (just in case you needed a cool recipe for Monday).
We stopped at Sam's Club and picked up a big Veggie Tray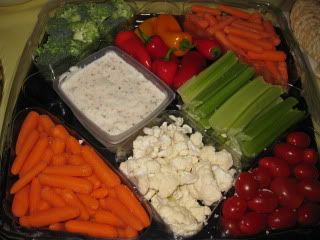 with Sabra (my favorite!) Roasted Red Pepper Hummus and crackers.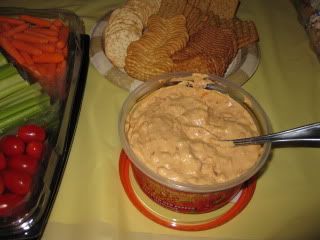 The Husband also wanted frosted cookies and cupcakes so we made a stop for that too. Here was the spread before the meat hit the table.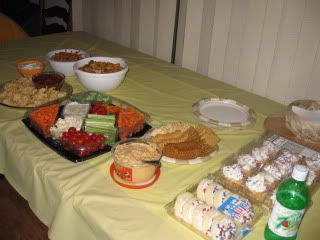 I sampled pretty much everything for dinner.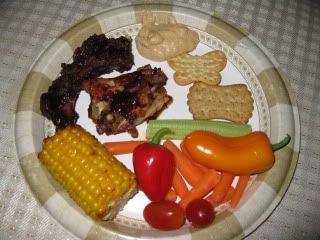 The Husband's BFF made the best ribs on the grill. He uses those metal tins to cook his meat in so that the ribs do not burn – great idea!!! Grilled up with Sweet Ray's BBQ Sauce….YUM! I had one rib and one piece of chicken.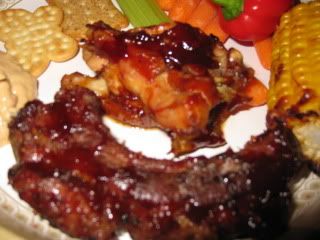 I had this super sweet and crunchy "popcorn like" 😀 corn x's 2.
Plus veggies with crackers and Sabra Hummus.
Now I am really a store bought cupcake/cake snob in that I do not really like them – I prefer the real deal. But, after watching The Husband down two cupcakes all the frosting first, I had to try one. They were eh, ok…..so not even worth the calories – I had a couple of bites before tossing the rest.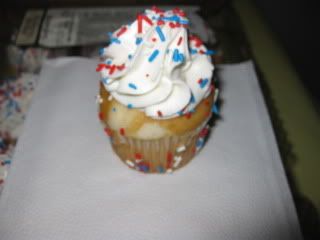 One last super cute picture of the night. One of our friends brought her new puppy with her. Isn't this the cutest, but, biggest lap dog you have ever seen?! I was amazed that he just hung out like he was a small lap dog LOL.
We had a great time catching up with our friends and didn't even realize we had not seen some of them since right before we got married ~ WOW, guess we really have been busy! The Husband was not so lucky in poker last night, but, I was the total team player and made enough to make back our money – that's alot of quarters LOL!!! Woohooo – usually he always wins more than I do.
My signed Hungry-Girl Cookbook contest is going on through Tuesday – don't miss out on your chance to score this awesome cook book. Click HERE to enter.