I feel like I have been racing against the clock ALL day just to be able to fit everything in. I got up extra early this morning to fit in both workouts so I could get a pedicure at lunch plus go to the nephews baseball game. This post is going to be quick so I can get 3 packages ready to mail, meditate, do yoga, journal and zonk out. I am not so sure I managed my time so well today, but, you know what, it was all WORTH IT!
We watched the nephews play a great playoff game while our youngest nephew entertained us showing his muscles, telling us we should all be ants so we can drive little ant cars and then being uber sweet trying to warm me up by blowing on his hands and hugging me ~ SO CUTE!
Tonight's dinner was interesting. I actually LOVED the soup and am glad I made it.
Carrot Ginger Soup ~ Get the recipe for this soup by clicking HERE.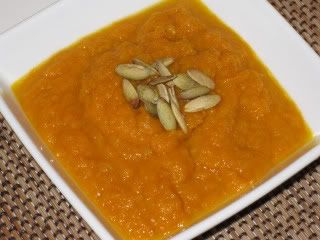 It was very flavorful because you carmelize onion, garlic and ginger. I LOVED the addition of the pumpkin seeds on top as well.
While the soup cooked, I marinated and assembled Fish Kabobs with Zucchini, Mushrooms and Peppers.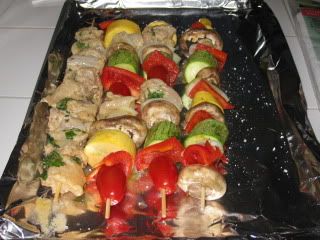 I used Halibut cut into chunks and marinated them in this:
Juice of 1 lemon
1 garlic clove Minced
1 Tbsp Soy Sauce
1 Tbsp Olive Oil
dashes of sea salt and pepper
a few pinches of cilantro
I pre-cooked the veggies for 5 minutes on the stove in a little olive oil so that they would cook as fast as the fish on the grill.
Here it is all served up with some whole wheat couscous.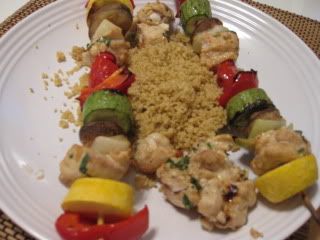 All together is was way too much food and I focused on listening to my body when it was full. I finished all my soup and about 1/2 of everything you see here. I did pick the mushrooms and peppers off my other kabob and gave our adopted kitty the rest of my fish.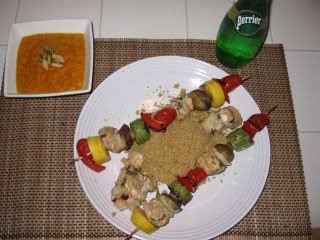 Dessert tonight was a watermelon frappe that I completely wanted to have but am too full *sigh*
I really think I should be eating dessert every night! LOL….I completely forgot about dessert when I saw the big box waiting for me that was delivered today.
Do you all remember when I won JulieGoleans Salsa Giveaway a little while back? Well, my Fire on the Mountain Salsa arrived today – yahoo! Big S Farms was nice enough to include FOUR RECIPE CARDS with my package ~ ahhhh, they must know me already LOL!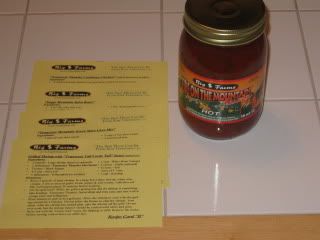 How good do ALL of these recipes sound?!
* Grilled Shrimp with "Tennessee Talk Cocke Tail" Sauce (appetizer)
* Tennessee Mountain Green Spicy Chex Mix
* Suggs Mountain Salsa Roast
* Tennessee Thunder Carribean Chicken ( I am ALL over this recipe!!!)
Thanks again, Julie!!! I can't wait to try out my new salsa – yeah! Reviews coming soon!
Alright all….my energy is quickly fading…off to check off the rest of my todo's. See you in the morning ~ SOOOO GLAD it's Friday!
Check out Mr. Krispers if you want to grab a bag for yourself. Click HERE! The contest ends tomorrow night so don't miss out