Happy Tuesday all! Today is super busy so this is going to be a quick, fly by post. I had a fantastic Red, White and Blue Parfait to start my day.
Layers of sweetness ~ small organic banana, 4 organic sliced strawberries, organic blueberries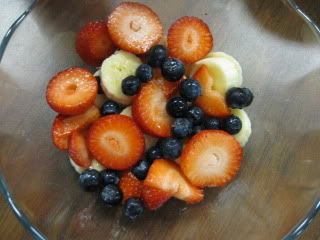 Topped with my absolute FAVORITE Organic Greek 0% Vanilla Bean Yogurt from TJ's. Just check out the "flecks" of vanilla beany goodness in there.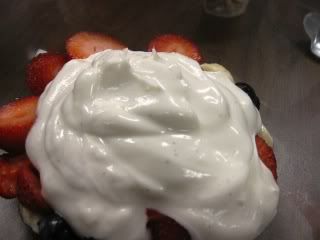 Layered with a sprinkle of Kashi Honey Almond Flax Granola.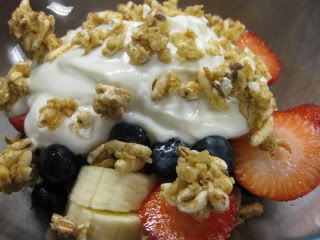 This was such a light and refreshing 4 Weight Watcher Point start to my day. I am so excited for my "planned" treat meal today ~ Thai food with my co-worker ~ Yahoo!
In Bikini Bootcamp News ~ Check out Angelea's Amazing results – The pictures show it all – doesn't she look fantastic?! Two weeks can really make a HUGE difference. It's definitely motivation to continue on the BBC path for me (aside from my Thai food indulgence of course!)
Do you all LOVE Holey Donuts as much as I do?! If so, one lucky reader will be receiving THREE boxes in my giveaway. Put on your creativity hat and Click HERE to enter for your chance to win!
Catch you all later for Thai fun, recipes and more!