I have been wanting to have time ALL week to make one of the Kick Start  egg-y breakfasts.  They all sound so amazing.  I chose to have Ham n Eggs with veggies.
I started off with some mushrooms sautéed in nonstick spray with sea salt and pepper.
Plus a "browned" tomato that you cook in nonstick spray at the end of everything.  It looks so cool and the browning catches all the flavor of the veggies and ham.
3 slices of Trader Joe's Lean Canadian Bacon (only 1 pt for 3)
All together with an Egg over hard and decaf Cinnamon Vanilla Nut Coffee.  I ended up making a little ham/egg sandwich – it was fun and my entire breakfast was only 3 Weight Watcher Points ~ yeah!
After breakfast and blogging, we set out on a mission in the rain to buy as many of our Christmas presents as we could.  I LOVE it when The Husband wants to shop with me because he can totally help when I can't make up my mind.  I bribed him with a Starbuck's 🙂
I had a Grande FF Decaf latte for 2 points.
I was completely focused on our mission that we never stopped for lunch.  Around 2 pm I was STARVING so I managed to dig this bag of cashews out of my purse to share with The Husband.  I may or may not have given into a couple of Costco samples too.
I'd totally LOVE to show you all our gifts, but, um, well, The Family would know what we got them. :D  I am super excited about TWO NEW NY&Co Jackets I picked up for me. 
NY&Co is having a big sale and these jackets were marked down 40%.  I got an even better deal when I used my $40 off coupon plus I had a $25 credit I "HAD" to use ~ SCORE!  I picked out this color and their green for fun!  LOVE that store!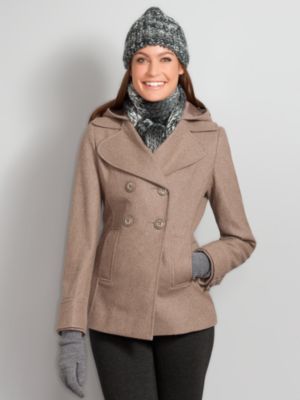 We literally shopped ALL day long.  When we got home, we both were starving.  I LOVE The Husband – he offered to cook us dinner!
The fantastic peeps at Ronzoni sent us a sample of their new Smart Taste White Pasta that has the SAME nutritionals at WHOLE WHEAT PASTA.  I really think The Husband wanted to cooked so we'd have this pasta versus wheat 🙂
Great STATS!  It has 3 times the fiber of regular pasta.  Drumroll please ~ for all my Weight Watcher Friends this is ONLY 3 Weight Watcher Points vs 4 – woohoo!
Plus no funky ingredients – LOVE it already!
KITCHEN TIP ~ Not sure if you all do this or not, but, if you add just a tad of your pasta sauce to your pasta after you drain it, the noodles will not stick together and you do NOT have to add any oil to the water this way.
We served up the pasta with Trader Joe's Arrabbiata sauce, mini meatballs and fresh parmesan.  YUM!  I LOVE the little spicy kick of the red pepper flakes in this TJ's sauce and the pasta is tasty too.  It honestly tastes just like white pasta.  So, for all those out there who have picky eaters, this might be a great solution for you to get them to eat pasta with better nutritionals.
Plus Parmesan Zucchini.
Dinner was 10 WWP – FAST, EASY and like having a personal chef 😉 YUM! 
After dinner, I relaxed with the December issue of Cooking Light Magazine that arrived today (Thanks, Time, Inc.)!  The December issue is one of my FAVORITE issues because it's always a DOUBLE issue.  I look forward to it EVERY year.
Here are a few of my FAVORITE things in this month's issue.  My Kitchen Gadget wish list!
The photography is AMAZING. Seriously – look at these pictures, I totally need to take lessons from them.
POPCORN BRITTLE  What an ingenious idea ~ save on calories and fat by subbing popcorn for nuts. Part Caramel Corn and part Brittle ~ what's not to LOVE about that combination! I NEED to try it – I heart all things that are caramel plus salty, sweet and crunchy.
12 FUN days of goodies you can make and SAMPLE too since they are lightened up.  I already know I will sample more than I should so I honestly do make a few things from Cooking light when I bake.  Hello, Macadamia Butter Cookies (less than 80 calories each!) 
For those drinkers ~ an article about The Positive Power of Drinking 😀
There are sooo many recipes I want to try in this issue.  Here are a few that stood out to me. 
Mushroom & Roasted Red Pepper Tarts (Vegetarian!)
A FUN Cuban Sandwich that I can try out on my new Cuisnart Panini Press!!!
There is also a section for 20 minute Super Fast Asian Foods which I KNOW I will be using too.  Ok, I'll stop because I could go on for days about this month's Cooking Light  issue.  It's awesome ~ check it out the next time you are at the store and I am sure you will want it.
You can also browse a sample of articles and ALL the RECIPES in this month's issue online for FREE.  Simply click HERE. 
So after looking at all that deliciousness and the fact that we had dinner super early, I had a 3 point snack of Kashi Crackers and Sargento Low-Fat Colby Cheese.
Our day is going to be filled with more shopping, cleaning, setting up our Christmas decorations and hopefully filing out cards.
It's raining again so I am definitely looking forward to the Healthy Potato Chowder we are making tonight!  Be sure to check back later for THAT super easy recipe 🙂
I hope you all have a FANTASTIC Sunday.