I LOVE it when you get 8 full hours of sleep and wake up early feeling completely rested. I think that is one of the best parts about the weekend ~ I wish weekdays were like that all the time 🙂
I started my day off with a fairly big 30 day Jump Start breakfast. I made up an EggWhite Wich with my Homemade Turkey Sausage ~ so sad this is the last one in the freezer – must, make, more…..
1 Thomas Double Fiber WW English Muffin (1 WWP)
3 "fried" egg whites (1 WWP)
1 Homemade Turkey Sausage (1 WWP)
1 slice Lite Cheddar Cheese (2 WWP)
I didn't use the sliced tomatoes
On the side I had a big orange that I only managed to eat 1/2 of before I was full. (1 WWP)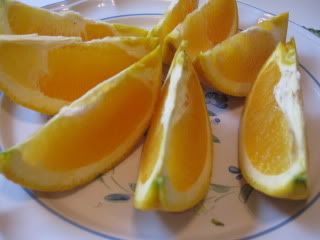 All together with 1 c ff milk (2 WWP) and some decaf Cinnamon Vanilla Nut Coffee.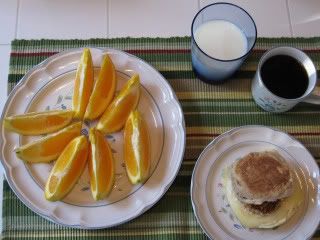 I have a feeling this breakfast is going to hold me over well – no AM snack needed, but, I'll be sure to let you know 🙂
On Friday, at the recommendation of my great friend, Cryssy (who told me w/my luck, I need to enter bigger contests lol), I entered this contest where they sent me this cool pdf article. It is about 25 secrets to Healthy Living on a Healthy Planet ~ great information and I wanted to share. Click HERE to download your own copy.
Today is all about staying cool and working that todo list. Enjoy your Sunday!