My attempt to sleep in didn't quite happen this morning. The Husband's friend called us bright and early forgetting it was Sunday (he works nights and was a little mixed up). LOL. Oh well, it gave me the chance to get my day started early. Today has been really productive ~ I have planned out an exciting menu for the week, went shopping, did laundry, picked up around the house and I am now about to relax for a bit with The Husband before dinner.
I wasn't really feeling breakfast or lunch today. Do you ever have days like that where you just really don't feel like eating? I rarely do because food always sounds good and my body usually tells me to eat. So far, my meals for today are not too exciting but dinner will definitely be more fun.
For breakfast, I had almond butter honey wheat toast and TJ's Organic French Roast. I had two servings that look like this as I went back for more after I was done.
While out shopping, I picked up some 100% California squeezed Tangerine Juice from TJ's. I had half this container and think the other half will make an awesome smoothie this week.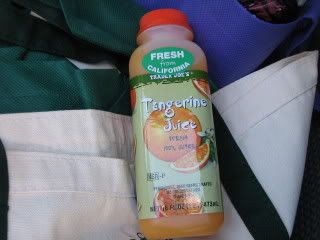 I bought a bunch of great fruit today and that is pretty much all that sounded good at lunchtime. Of course I had to share this plate with The Husband because he thought my lunch looked better than his leftovers from last night 🙂
See you all for an awesome dinner!