Today is truly such a beautiful day outside ~ the sun is shining, it's warm and there is a nice little breeze that cools you down as you run. We went another 4.42 miles before lunch and I just have to say it was another highlight to my Fabulous Friday!
Lunch was a combination of leftovers and crunch. I had 1 serving of Snobby Joes on a slice of GF Rice Pecan Bread ~ this stuff gets even better the next day! Seriously, I thought it was good last night but today it was seriously awesome.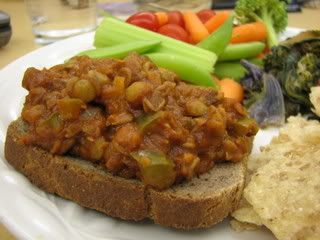 Then for some crunch some veggie tray veggies and Lundberg Sea Salt Rice Chips. Ok, I dipped back into the bag for another serving about the same amount.
I made sure to fill up the rest of my plate with more vegetables ~ leftover Trader Joe's colorful Chard – Love it!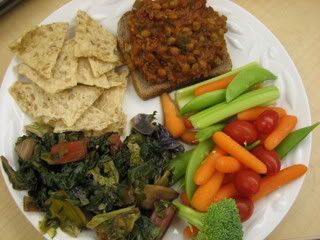 I was wanting a little something sweet to finish off my meal. I usually get tea when I want something but then I remembered I had brought my Vegan Chocolate Chips with me as I was thinking of possibly adding them to the waffles this AM. They didn't make an appearance for breakfast but somehow they jumped out of the bag and onto my desk for lunchtime dessert 😀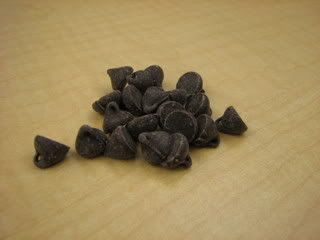 This morning I didn't manage to drink more than maybe ¼ of my Soy Latte. I think it was just too sweet for my liking and it got cold before I could finish it. I did switch to regular black decaf though ~ Yum. I also snacked on some sweet pineapple: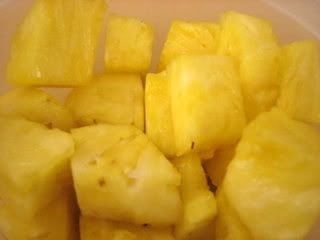 And had a couple of these spicy peanuts ~ maybe about 10.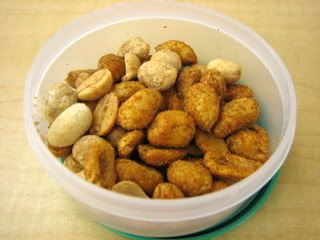 We have a super fun and delicious dinner planned for tonight and I might even think about "testing" the chocolate soy ice cream I bought ~ Yum, can't wait!