Yesterday was totally a go-go-go type of day.  Here is how my day went down:
Work — Home — New Weight Watcher Meeting with the leader I LOVE — pick up dinner — make a cake — run to the store because I ran out of Powdered Sugar — finally relax!
When I sat down with The Husband for 15 minutes I realized I had not blogged.  I had the choice to blog or sleep ~ sleep won!
It was completely worth it because I feel like I finally caught up on some much needed sleep.  So, this morning I decided to back track and share my day with you all quickly for yesterday…..But, before I get started I had to say this……
HAPPY BIRTHDAY TO MY FANTASTIC FRIEND AND CO-WORKER ROSIE!!!
Breakfast was awesome even though my picture was not so awesome. 
1 Thomas Double Fiber English Muffin
1 Tbsp Freshly Ground Almond Butter
1 naner sliced
Delish & completely filling ~ no morning snack needed.
I really needed to get out at lunch so off to Trader Joe's and Whole Foods I went.  I knew exactly what I wanted ~ SOUP!!! The irony was I got so excited over the soups that I forgot to get what I went for ~ more ALMOND BUTTER – oops!
I couldn't decided between their Southwestern White Bean Chili and their Turkey Chili.  So I did the most INGENIUS thing I think I've ever thought of ~ I mixed them both!
1/2 c of WF Southwestern White Bean Chicken Chili & 1/2 c WF Turkey Chili
Did I mention yet that this was so AMAZING?! 😀 I am seriously thinking of making up two types of soup like this and mixing them!
Plus a slice of WF Corn Bread with REAL CORN in it!
All together with fizzy water on the festive Halloween tablecloth we put on our conference table – LOVE it!
When I got home I had some fun mail waiting for me ~ Yeah!!! I hear fun mail.  The fantastic folks at Ronzoni noticed my LOVE of Whole Wheat Pastas and sent me a few of theirs to try out.
I cannot wait to make a creation using these pastas ~ LOVE the nutritional specs already!
Here is the cool part ~ you all can get a coupon for some of your very own Ronzoni too!
Next up was Mrs. Dash ~ Holy Spices!!!! How amazing do these flavors sound?!
* Caribbean Citrus x 2
* Tomato Basil Garlic
* Chicken Grilling Blends
* Fiesta Lime
The best part is that they are really just SPICES with nothing funky added.
Reviews on both awesome products coming soon! 
After my meeting I stopped at our favorite Mexican food place ~ Vasquez Deli to pick up dinner. The Husband made a special request for this place since I was right by it so of course I had to get it.  I had 2 of the BEST Spicy Chicken Tacos ever….
And I stole a little of his cheesy quesadilla.  Can you believe that tortilla? They make all of their tortillas and sauces right there ~ so cheesy good!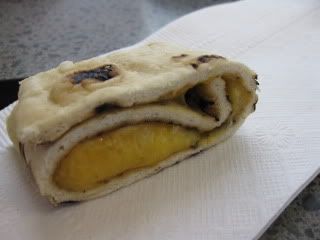 After dinner, I got down to baking my FAVORITE cake for my friend's birthday. This is the Banana Raspberry Cake with Lemon Cream Cheese Frosting from Cooking Light that you have seen me make before.  It is forever requested by friends and family – it rocks!
Two layers of banana cake, a layer of raspberries in the middle with a low-fat lemon cream cheese frosting all over.
I shared the leftover raspberries with The Husband for snack.
Check out Emily's Mix My Granola Giveaway!
Emily #2 is hosting her 1st Experimentarian apple Giveaway!
* My Healthy Pumpkin Butter made  Fat Fighter TV's list of 10 Healthified Pumpkin Recipes – Fun!
Happy Friday Eve all ~ I know my day is going to be awesome because it's the first time in a week that I FINALLY have nothing planned after work – yeah! 
Have a fantastic day!