I was pretty excited ALL day for dinner tonight ~ Basic Black Beans and Chicken/Spinach Spa-Chiladas. What I LOVED about this recipe was you didn't have to heat your oven or cook it for that long. I have to apologize ahead of time as I was sorta frumpy making up dinner tonight. I think feeling like I need another me to get everything done and being a bit sleep deprived isn't a good combination for me.
Anytime you need to pick yourself up, I highly recommend starting you dinner off with DESSERT first. This is exactly what I did! I whipped up a quick Pineapple Frappe and only wished I had a little alcohol to add to it 🙂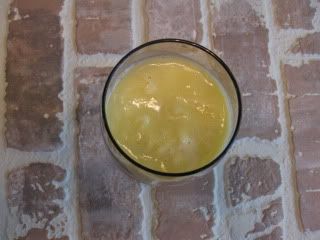 1 cup pineapple
1 cup ice
All blended together – that's it! It was so tasty and reminded me of a fruity drink you'd get to sip on the beach while on a tropical island. I will definitely whip this up again.
Dinner was sort of a good flavored flop tonight. What I'd change is making my "enchilada" sauce thicker and I'd "fry" up the tortillas first.
Spa-Chiladas with Basic Black Beans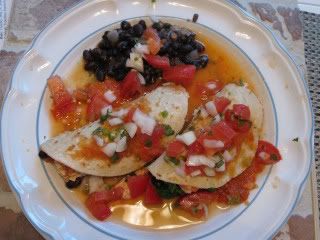 Enchilada Sauce
6 roma tomatoes, quartered
1 jalepeno, minced
1/2 onion, chopped
2 cloves garlic
1 handful cilantro
Dashes of garlic salt and freshly ground pepper
Water
Remaining ingredients:
2 – 5 oz chicken breasts, cooked and cut/shredded
1 bag of organic spinach
Salsa Mexicana for topping
Avocado would be fantastic as a topper too
Take 1/2 of all the above ingredients and place in a sauce pan. Cover with about 1 – 1 1/2 c water (I used 2 c and I think that was too much). Cook for 12 minutes or until the tomatoes are softened. Blend and return to the pan.
Take the other 1/2 of your ingredients and chop, leaving it a bit chunky. Mix it into the puree mixture and simmer for an additional 10-15 minutes
You can use pre-cooked rottiseuirrie chicken, boil chicken breast or grill it! I grilled up 2 five oz chicken breasts with a little garlic salt and pepper. Chopped and place in a boil.
Place spinach in a microwave safe dish with 2 Tbsp water. Cook for 2 minutes, remove drain and place in the chicken bowl.
Add a few spoonfuls of the "enchilada" sauce to the spinach chicken mixture.
Dip your tortillas in the sauce and place on a plate. Top with a scoop of beans and a scoop of chicken/spinach. Fold in half and top with additional sauce and/or Salsa Mexicana.
You can serve additional black beans on the side.
I had 2 SpaChiladas stuffed with all of the above (minus the avocado) – I would've LOVED that!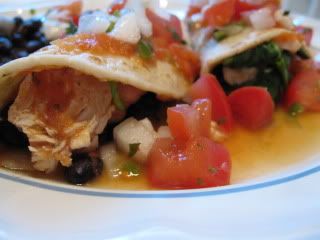 In other SUPER COOL NEWS – I have TWO much anticipated giveaways in the works for you all. I am planning one to start on Monday and the other is lined up for the week we are in Vegas. I guarantee you will want to WIN both – yahoo!
Speaking of Giveaways ~ I won ANOTHER GIVEAWAY today! C.G. Foodie hosted a fabulous "Goddess" Giveaway and I won!!! Woohoo ~ I can't wait to learn how to Belly Dance – Thanks C.G.! I am soooo playing lotto tomorrow – TWO giveaways in one week – woohoo!
Alright, please forgive me for being behind on your blogs. I promise to catch up soon – for now, I will catch up on your comments and get to bed early to catch up on some much needed sleep.
Have a great night all ~ I am soooo glad tomorrow is Friday!