After work, I stopped to pick up The Husband for our night out. We both were like eh, not super hungry, so actually going out to dinner didn't appeal. After listing out all the options we could think of that would be good for me (for veggie week), we decided to go to Subway. I planned out my sandwich as we drove. I ordered a $5 foot long vegetable sandwich on their new 9-grain honey wehat with pepperjack cheese and all the produce.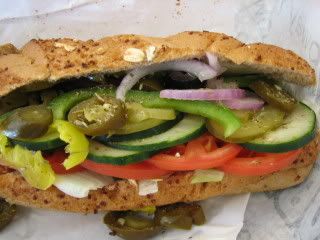 I also wanted avocado to make it more filling with some healthy fat since it was lacking in protein. I wish Subway had hummus or something. I was soooo thoroughly bumme when the guy said they were all out of avocado. Seriously?! I almost told them to stop making my sandwich becase I didn't want it anymore 😀 The guy offered up double cheese but I passed. The Husband was sweet, he offered to run over to the store across the street to buy me avocado. But, I decided to not be so difficult and enjoyed 1/2 my sandwich (6 inches) but about 1/4 of the other half.
I figured this gave me a reason to justify having some Sun Chips with it – I needed more too it than just eating veggies in bread. I did steal one of The Husband's spicy jalepeno chips as well but it isn't pictured.
As with tradition I dropped The Husband off at poker and went to Starbuck's. I always bring my hair dresser a Starbucks plus sometimes a treat. This time not treats and I think she really wanted sorry ~ sorry K! 😀 Have I ever told you she is the best hair dresser ever?! I love my new do and the new highlight colors we went with. Phew ~ that should get me back into her good graces 😀 lol. I ordered a tall nonfat decaf latte and had them top it with a little caramel drizzle for my dessert. I LOVE doing this because it makes the foam taste like a marshmallow. Being a bad blogger, I forgot to take a picture. As I savored it, I realized this is the first time I've had milk since our Vegan Challenge. I missed it!
We didn't get home until late so I know I will be dragging for sure in the morning.