Happy Monday all! Today I woke up sleepy but whipping through 38 minutes of circuits, plus Meditation and Yoga I am awake and positive. While I got ready, I had a big cup of Morning Burst (lemon slices plus hot water) to detox from my weekend snacks.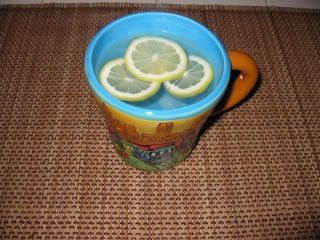 I am challenging myself for the remaining 7 days to eat only what is on the Bikini BootCamp Progam!
Mango Madness Smoothie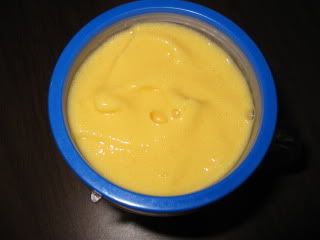 1/2 c lowfat milk
1 mango
1 big heaping cup of ice
It was refreshing and delicious. I LOVED being able to spoon it out of the glass – it made my smoothie seem like more of a meal. I was FREEZING after though so I had to warm up with some nice watered down decaf coffee.
I am fueled and ready to start my day! Today's theme is about having faith in yourself and your ability to accomplish all things you set your mind too. I have successfully completed 7 DAYS of Bikini Bootcamp – yahoo! I am on the downward slope now 🙂 And even better ~ I fit back into my skinny jeans (the first pair of designer jeans I bought when I lost my weight originally – they are tight, but, I am wearing them!)
THE WINNER OF THE BIKINI BOOTCAMP BOOK:
I put everyones name on a paper and randomly selected the name from a box. The winner of a free copy of the Bikini Bootcamp Book is C.G. The Foodie!!!! Congrats C.G!!!! I will get the book sent out to you ASAP so you can start the program.
No worries for those who didn't win as you are a winner already just by taking on the Bikini Bootcamp challenge. The entire month of June is designated as Bikini Bootcamp month so sign up today. Those participating will be eligible to win some great rewards as incentives to stick to it!
TWO FUN THINGS TO KICK OFF YOUR WEEK:
* Can you spot what 100 calories looks like? Click HERE to take the fun quiz!
* TWO Giveaways ~ Nalgene Grip n Gulp & Thorlo Experia Milti-Sport socks ~ Click HERE!
Have a great day all ~ I can't wait for spin class today and for my lunch (made it up last night!)