Today on our way back from going to the Farmer's Market, we saw the COOLEST bike on someone's car! Seriously, I know you all will be as jealous as I was when I saw it.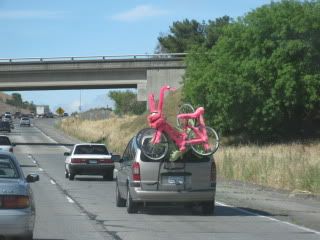 Told you ~ Now, who is going out to find one of these bikes?! OMG ~ We were absolutely cracking up ~ I only wish I could've taken a picture with somoene riding it.
I refrained a little at the market this time and only picked up a few things. You can click any of the images below to make them bigger.
My story for the blueberries was so cool. The same lady and her husband sell them every year and I overheard her talking to someone about how they blueberries are good to have on Weight Watchers. I asked her if she did Weight Watchers and she said she was a leader. I was like that's so cool – Where at? Ummm…yup – at my location I go to except on Sundays! I just may have to check her out because she seriously is the type of leader I LOVE – she had so much energy. Anyway as I was walking away she came over and handed me another container of blueberries and said b/c I do Weight Watchers I get more – so cool!!!
The Husband wanted donuts today and can you believe he asked if he could have Holey Donuts instead of donut shop donuts?! I was soooo proud of him! So, he had two.
He started with the Lowfat Chocolate Crumb.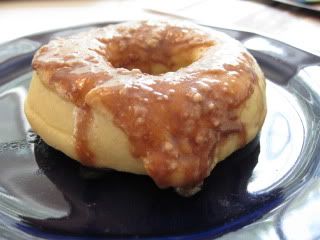 And finished with the Lowfat Caramel Crumb.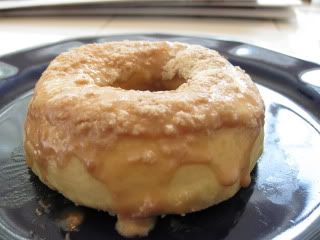 I'll admit I HAD to steal a small bite of each to taste them. They were both pretty tasty – I STILL love the bread part the best. The chocolate and caramel flavors were light and not overpowering with hints of cinnamon in them. I think you can tell these are a healthy donut, but, in a good way. He LOVED them both!
After my two sample bites, I had a proper Bikini Bootcamp Snack. I had a few fruit samples at the market, a couple of organic strawberries when we got home and then three of my Secret Bloggie's AkMak Sesame Crackers.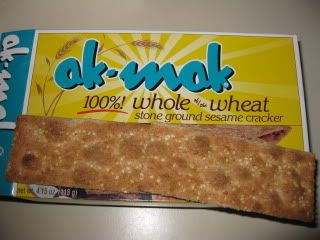 After we donated our extra washer/dryer to the local charity, we came home for lunch. I marinated the chicken breasts in the Easy Lime Marinade that I made before, but, I used lemons instead of limes.
Grilled Chicken Mango Salad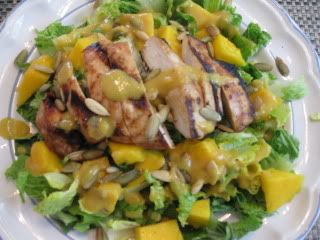 5 oz grilled chicken breast in Lemon Marinade above
2 c shredded organic romainne lettuce
1/2 chopped mango
1 Tbsp roasted pumpkin seeds (was supposed to be almond slices but I didn't have any)
Topped with Mango Citrus Dressing, sea salt & freshly ground pepper
Mango Citrus Dressing
1/2 chopped mango
1/4 c orange juice (from 1/2 an orange)
1 Tbsp Extra Virgin Olive Oil
1/2 Tbsp Balsamic Vinegar
Blended in my Magic Bullet.
I didn't think about it until AFTER the pictures, but, some unsweetened organic coconut as a topper would have been fantastic. The Mango made the dressing really creamy and fruity sweet. I LOVED this salad – it was light, healthy and super easy to make.
I think I am really starting to like Mango after having it so much lately. I read somewhere that if you try something 12 times eventually you will develop a taste for it….hmmmm, maybe it's true!
In other SUPER COOL NEWS, we have TWO new Bikini Camp Recruits – yahoo!!! Good luck in the BOOK drawing ladies. You all still have until tomorrow night to sign up and possibly win the Bikini Bootcamp book – click HERE to find out how.
Alright, off to stock up on groceries for week 2 plus get in my meditation, yoga, walk, circuits, journalling!