THIS was the reason I knew I had to get on the treadmill when I got home today. I made a deal with myself ~ If I wanted to fully enjoy "The Cupcake Experiment" then I had to earn it. I want to make sure I cover all my basis in our VG/GF challenge which includes dessert, right? This morning when I saw that Jenna made Vegan Chocolate Cupcakes with Fluffy Vegan Buttercream Frosting, I knew that would be part of the plans for tonight. After a quick 30 minute HIIT (High Intensity Interval Training) run on the treadmill, I popped these in the oven. I used an All Purpose Gluten Free Flour I found at Whole Foods to make them meet the challenge.
After dinner while The Husband did the dishes ( I LOVE HIM!) I made Vegan Vanilla Buttercream Frosting for them. I didn't use any shortening and only used 1 stick of Earth Balance Vegan Butter. I wish I used my Almond Breeze for the milk now instead of plain soy milk for more flavor.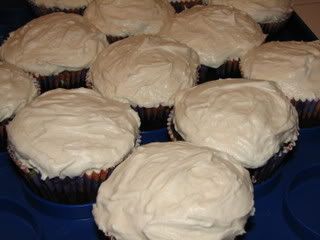 I made up a quick pot of TJ's organic decaf coffee and sat down to enjoy with The Husband!
All I can say is Wow! These are so good! A nice thick layer of real frosting and moist chocolate cake – it was total Cupcake Love. They are rich and remind me a bit of a Suzy-Q. I delivered a couple to The Husband's mom and will be sharing at work again tomorrow.
Ahh ~ My day is now complete! Good eats, The Biggest Loser and now off to read….See you all tomorrow for more Vegan & Gluten Free Adventures!