Tonight was the night that I was driving out of town to see my friend and my amazing hair dressor! Did I mention that this is one of The Husband's favorite days? He says he rides with me so I don't have to drive alone for an hour (LOL)….but, don't let that fool you. I drop him off at a card room to play poker while I chat with my friend and get my hair done.
I deviated a bit (ok, alot) from The 30 Day Jump Start plan at lunch so I knew I couldn't do so for dinner. The only catch was that I HAD no time to cook. I was so shocked when The Husband offered to help me out and cook up my 30 Day Jump Start Meal! He seriously rocks ~ He cooked it all up and made it all on a togo plate for me to take with me. Wohooo!
Check out what a great job he did!
He grilled up some chicken breast with Annie's Sweet & Spicy BBQ Sauce.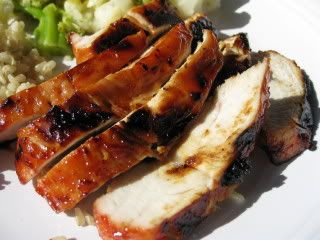 With some quick frozen Organic Trader Joe's Brown Rice ~ LOVE this stuff!
And some Frozen Veggies ~ steamed he said Food Network Style. He cooked them with a sprinkle of sea salt and pepper, then, when they were done, he added a dash of garlic salt and a "kiss" of whipped butter. He is funny in his descriptions!
For dessert ~ he sliced up some fabulous strawberries and put them in a little to go container as well.
He absolutely scored some major brownie points….I wonder what he wants?! LOL Kidding…I know he was trying to help out to make my life easier.
It was a great night chatting it up with my hair dressor ~ I brought her a Starbuck's and I know the caffeine makes us gab for hours.
When I got home, I received a fabulous package in the mail from Sonoma Crisps ~ the amazingly healthy, 1 WWP treat ~ More details and a review coming soon!!!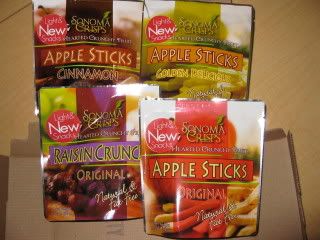 You have until Midnight (PST) on Thursday to enter my Annie's Mac Pack Giveaway ~ Click HERE to enter so you don't miss out!