Happy Hump Day! I slept in and the sun was shining when I woke up which is honestly the best way to start your day. I started my day off with some healthy waffles packed with fiber, protein and a whole lot of yum! I checked off a dairy and fruit serving too – woohoo!
2 Kashi Strawberry Flax Protein Packed Waffles
1 6 oz container of TJ's FF Blueberry Greek Yogurt (14 g of protein!)
1/2 small banana
3 strawberries
small handful of blueberries
Sprinkle of Unsweetened Organic Coconut
I LOVE topping my waffles with all sorts of things in case you haven't noticed. I really feel there are so many healthy options out there that you don't need to have the butter, whipped cream and syrup. Afterall Greek Yogurt rocks over whipped cream anyday 🙂
All together with some decaf coffee and my SIGG.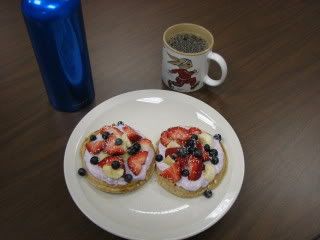 Did you all see Biggest Loser last night? Wasn't it an awesome show…I LOVED all the make overs and was really torn about which person should've gone home. I felt like they both should have stayed.
Today is going to be busy, but, it will all be worth it when I am off on Friday enjoying not working….more on that later!
Have a fantabulous (fantastic + fabulous= fantabuous – yes, it's a word!)