Happy Monday all! Our little heat wave is finally breaking today and we are going back into the 80's. Yahoo! I love sunshine and warm weather, just not blazing hot heat. Today is day 29 of the Biggest Loser 30 day Jump Start – yeah! With 2 days left, I decided to hold off on my official final Weigh In until Wednesday.
This morning I started off with an awesome bowl of Steel Cut Oats (5 WWP) ~ I've missed oats so much!
1/3 c steel cut oats
1 1/3 c water
dash of cinnamon
2 Tbsp TJ's Berry Blend
1/2 banana
1 Tbsp Walnuts
Plus 2 slices of TJ's 97% fat free turkey bacon (1 WWP):
And to start off properly hydrated 😀 I had 2 glasses of iced decaf coffee using 8 oz of fat free milk (2 WWP).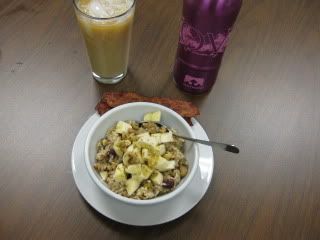 My breakfast was sooooo filling! I really want my AM snack but we will see if I get hungry by then.
Confession time ~ Last night, yup, the ice cream called my name and I listened. It was so refreshing after a hot day and I enjoyed it as I started on my next book. I had layed out a few books on the couch and told The Husband to pick which one he thought I should start next.
Can you guess which one he picked?
The Importance of Being Married ~ Ha!!! He said since we are still in our first year, I should read up ~ such a funny boy! LOL.
If you LOVE coffee, be sure to check out Tina's super cool Coffee Giveaway ~ Click HERE to enter!
That's I have for now ~ See you all later for some more fun eats after my lunchtime walk.