Since I am the "Glee Club" President here at work, I am in charge of doing all the fun things we host at work. Today, we decided to make St. Patrick's day all about being green and having fun. We had originally also planned to get GREEN Sigg or Kleen Kanteen bottles for everyone, but, it didn't work out ~ too bad, that would have been perfect. Anyway, on to the fun…..
We started everyone out with a little party pack on their desks that looks like this: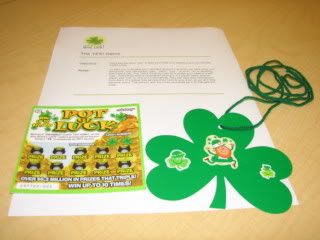 The YES! Game Rules, Necklace to give them GREEN to wear and a Pot of Gold Scratcher to hopefully bring them some GREEN. Here are the rules to the YES! Game
Objective:
Don't say the word "yes" or else you'll lose your opportunity to win the $50 CASH prize!
Rules:
To play you must take your necklace and put it around your neck when you first arrive. You cannot say "yes", "yeah", "yup", "uh-huh", "si" or anything that means yes. The ONLY thing you can do is shake your head to mean "yes". Everything else is considered saying it. If a player hears another player say "yes" or one of it's derivatives, they can take their necklace(s) from them (if a player has several they have to give them all up) and they become yours. The person with the most necklaces by 3:30 PM gets the prize.

OMG ~ Can I just say how hilarious it is to hear people going around "A-Ha-in" each other. It's great. It took me about 5 minutes to lose my necklace. Here is me with my cool $4 Go Green shirt I got at Target. That is before I lost my necklace. Must listen to others to win it back!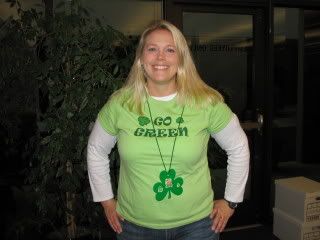 I have to share a picture of my co-worker Rachel (aka running/walking/chatting buddy) who dressed up as a Leprechaun ~ how cute does she look. She is posing with my other co-worker Kristin who is also sporting some green for St. Patty's day.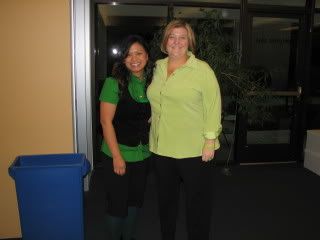 Leave it to the Leprechaun to wear her necklace backwards lol.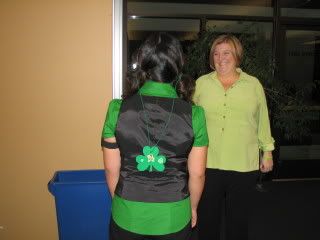 We also gave away scratchers to the group who made their cube into a "Pub" for the day. Isn't their cube, cute? Now where is the GREEN beer?
My other co-worker made the amazing GREEN Clover cupcakes – don't they look awesome?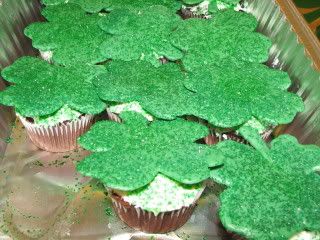 I snagged this one that I will definitely be enjoying later……
We are sending out fun trivia questions with Pot of Gold Scratchers to the winners. The Kitchen is set up and almost ready for lunch. I will post more GREEN fun about the day after lunch ~ Phew! Fun, but, busy…….