I just got back from probably one of the best lunches I have ever had at Gillwood's Cafe. It was absolutely worth trading in my lunchtime walk to sit out on the patio in the sunshine and chat away with my co-worker. For starters, I have a side salad with Fat Free Raspberry Walnut dressing ~ amazing!
Although this salad looks simple, it packed alot of punch. Included on top of the crunchy romainne was chopped cucumber, zucchini and red bell pepper. The highlight of the meal though was definitely the Garden Burgers we ordered. We specifically went here to get veggie burgers and piled them high with all the toppings. My Mushroom Garden Burger was topped with cheese, sauteed mushrooms, red onion, fresh avocado, pickles, tomato, lettuce, ketchup and spicy mustard all on top of their freshly baked home made buns. Sorry about the shadow, there was just too much sunshine to get mine out of the picture 😀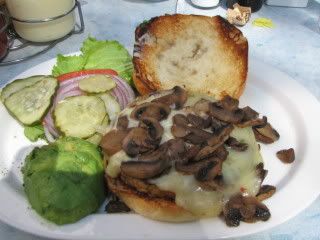 Just look at this fully loaded burger! How good does that look??
I guarantee it tasted THAT good and more. This lunch really hit the spot. We both felt sooo good about picking salads over fries that we bought the Morning Glory Muffins like last time for an afternoon snack. I can't wait to dig in and of course, I'll be sure to share a picture of that too.
This morning while stressing over my technical difficulties I caved a little. I had my planned Trader Joe's Lite String cheese, then, I had a handful of my co-workers TGIF Cheddar Potato Skin Chips. These were so good and crunchy. I was ok with trading in my fruit for the chips, but, I caved when I also had some Ranch Corn Nuts. Why? Oh, because they were easy to stress crunch on and I was craving salty *sigh*……moving on though….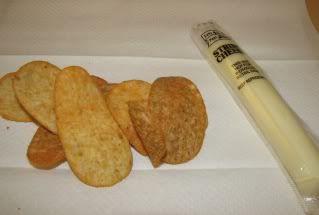 My spirits are completed lifted now and I have to say my technical difficulites feel like a thing of the past. I am completely ready to put on my headphones and get some work slammed out this afternoon. Catch you all later!