While cooking dinner last night I was pondering what I was going to make for breakfast. I really wanted something different. So I opened up the Veganomicon Cookbook once again and came across Banana Nut Waffles. Yup, my mind was pretty much made up at just reading the title. I am not sure if I can post the recipe so for now I will wait. So I prepped the waffles last night using a mix of Gluten Free All Purpose Flour and Oat Flour to make the GF as well. They smelled amazing cooking, it was hard not to dig in right then.
But, I resisted and this morning I heated up one of the beautiful Banana Nut Waffle Circles.
Toppings included:
1 teaspoon of Earth Balance Vegan Butter Spread
½ sliced banana
A few cut up strawberries & blueberries (Thanks Rachel – loved the color they added)
A sprinkle of unsweetened shredded organic coconut (maybe 1 tsp)
1 Tbsp toasted chopped walnuts*
Drizzle of Real Maple Syrup (about 1-2 Tbsp)
* Quick tip for toasting your nuts in the microwave. Simple put them in a little bowl and cook for 30 seconds to 1 minute – tadah! They are so good this way and no oven or stove is required.
I also decided to put this whole VG/GF thing to the test today with Starbuck's. I ordered a Tall Decaf Soy Latte and was pleasantly surprised when I saw they used Vanilla Soy Milk. I like how frothy it was when I got it and it sort of reminds me a bit of a vanilla marshmallow – not sweet, but, just a hint of that. I am not sure I am sold on having a latte this way, but, I will savor all morning and let you know if I make it through 😀
Here is Breakfast all together: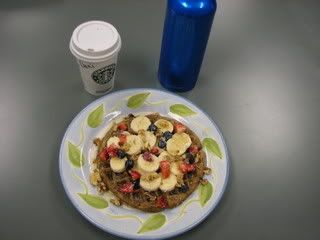 Day 5 recap:
5 days down, 2 to go! Wow, it's hard to believe I have been doing the whole Vegan & Gluten Free thing for 5 days now. I have honestly enjoyed this and now realize it isn't as hard as I thought to do both. I think I am realizing my personal preference towards being Vegan, but, not so much towards being Gluten Free. My next step is deciding what to do when Sunday rolls around ~ Do I continue? Do I add back one thing at a time? I love the way I am feeling and I am curious to see the impact this has on the scale. I feel like I am able to balance healthy eating with a few treats. Ok, yes, the cupcakes are gone or will be today when The Husband eats the last two 😀 I enjoyed my eats yesterday and am looking forward to today's just as much. That is really a great feeling
Calories burned: 3,290, Steps taken: 16,329
Calories consumed: 1,736
Protein: 12%, Carbs: 57%, Fat: 31%
Happy Friday All! Today is going to be awesome ~ the sun is shining bright in California and the weekend is just around the corner.