I was so incredibly excited when I saw this in the February issue of Vegetarian Times. Ok, well, the Vegan Carrot Cake recipe, but, not the icing. I had bought my Vegan Cream Cheese at Whole Foods but have yet to find a use. Ding, ding, ding ~ this recipe works! I am a huge cupcake fan ~ probably one of my most favorite things in the world if you haven't already noticed. I decided to take their recipe for a cake and make it into cupcakes.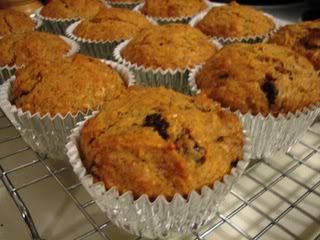 Yesterday I bought the Vegan Cupcakes Take Over The World Cookbook and used their frosting for making the Cream Cheese Frosting. I highly recommend this cookbook not only for the fabulous pictures, but, seriously, there is an entire chapter devoted just to frosting ~ Yum! Here they are with a ton of Vegan Cream Cheese Frosting.
HELLO CUPCAKE!!
I actually showed a little restraint tonight and split just ONE cupcake with The Husband. I wasn't sure he would like it because it has raisins but I knew I couldn't make cupcakes and not share. OMG! This seriously might be the best cupcake I've ever had in my life. He loved them too – especially the frosting. He licked the beaters 🙂 lol.
Please let me know if you want me to post the recipe because I gladly will do that.