Taco Bell has nothing on these fabulous Mini Mexican Pizzas. Ok, well, I haven't honestly had a Taco Bell Mini Pizza since I, um, well, I can't remember when ~ high school? Ages ago? I actually do not eat (rarely and only when I have to) fast food after watching Super Size me about 5 years ago. It forever tainted my brain and well honestly, you do not get that much food for the calories/fat it costs you. Anyway…..we whipped up these fabulous pizzas tonight in under 20 minutes ~ so simple, so easy. This is from my Lowfat Vegetarian Cookbook and I "veganized" them.
Preheat your oven to 400 degrees. Place your favorite tortilla (I used flour) on a cookie sheet covered in foil and bake for 2 minute. Flip and bake 1 minute longer.
While your tortillas are in the works chop up and mix:
2 cups roma tomatoes, diced
1-2 green onions diced
1-2 Tbsp cilantro
Juice of 1 lime, about 1 Tbsp
1/2 tsp cumin
Heat up your favorite can of refried beans. I used Fat Free Vegan salsa refried bean ~ Yum!
When your tortillas are out of the oven, simple top with your beans, (about 1/4-1/2 cup), then, your tomato mixture (about 1/3-1/2 cup), and soy cheddar cheese. I used Veggie Shreds.
Bake in the oven for 6 minutes or until the cheese is melted and your tortilla is crunchy. Slice into 4 slices and enjoy.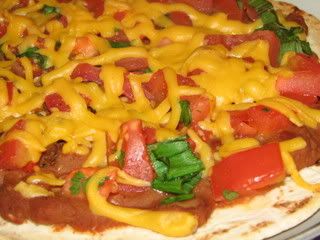 I had actually bought and cooked up some LightLife Smart Ground Veggie Crumbles and mixed it with the extra taco seasoning I had leftover from my Surprise Tacos. The Husband came in and took a big scoop before asking me what it was. He thought it was ground beef. I had to try it after watching him rinse his mouth out. I have to say, this was not very good at all. I did add some to my pizza in a small triangle and it wasn't too bad that way, but, I definitely will not buy this product again ~ bleh!
This afternoon I made another Green Monster, but, a little too healthy. I was thinking that since the first one took on the flavor of banana, pineapple would be good. Ummmm, not so much.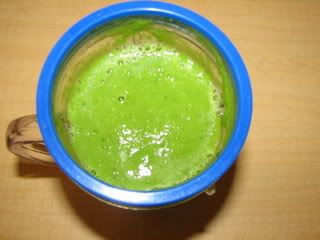 In the mix:
1 c pineapple
1/2 c almond breeze, 1/2 cup water
1 cucumber
1 cup spinach
It wasn't bad but it sorta reminded me of that artificial watermelon tasting candy. My co-worker was so eager to try it because she loved the last one I made but her reaction was hilarious. She was like OMG, Danica, you are not going to drink that are you?! So ya, probably not one I'd recommend.