On my way running out of work tonight, I grabbed a snack size bag full of blueberries and a TJ's Cashew snackers. I ate ALL the blueberries and 1/2 the cashews. This was perfect to hold me over for our long commute. I know, I know, I used a Ziploc, but, it's a work in progess – I STILL have the rest of the year to become Ziploc Baggie Free…it's a hard thing to do.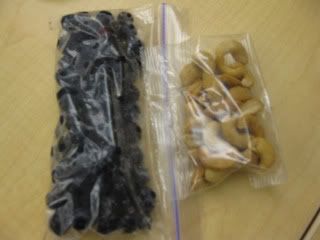 I came home today to one of the best packages a girl can get ~ Vitatops & Vita Brownies!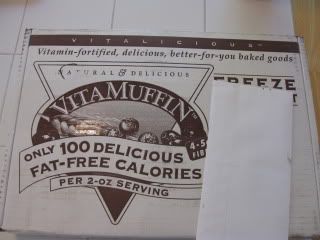 The nice people at Vitalicious decided to send me their BIG Super Sampler. WOW!!! This is some serious Vitatop LOVE ~ I am not sure I know which one to try first…they are ALL 100 calories of amazing!
SuperSampler Pack (100 Calorie Brownies & Muffin Tops)
Assortment of 100% natural chocolate muffin tops and brownies:
4 Low Fat VitaBrownies
2 Low Fat Chocolate Fig VitaTops NEW!
2 Low Fat Banana Nut VitaTops NEW!
2 Low Fat Double Chocolate Dream VitaTops
2 Low Fat Deep Chocolate VitaTops
2 Low Fat Fudgy Peanut Butter Chip VitaTops
2 Low Fat Golden Corn VitaTops
2 Low Fat CranBran VitaTops
2 Low Fat AppleBerry VitaTops
2 Low Fat MultiBran VitaTops
2 Low Fat BlueBran VitaTops
I am sure you can guess what is for breakfast and/or snack tomorrow!!! Lots of reviews coming your way soon so you know which flavor is tops to order (well, I mean, aside from ALL the rockin' chocolate & Hungry-Girl Flavors!)
I am seriously enjoying ALL the FIBER LOVE I am getting these days! LOL
The Husband was nice enough to accompany me on running errands tonight. While we were out and about we stopped at the local farmer's market where we picked up dinner. He LOVES this vendor who grills out everything right there.
Isn't this the BIGGEST chicken on a stick you've ever seen?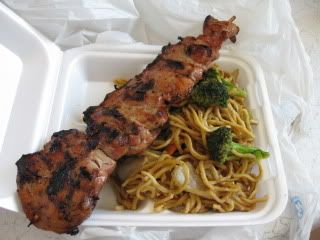 Don't worry, I didn't eat ALL that. I had about 1/3 of the tasty teriyaki chicken stick.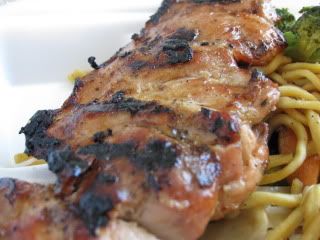 Then, I handed off the rest of the stick to the meat eating Husband (who ate that plus another plus a hot link) while I chowed down on the veggie chow mein. Being the carb lover I am, anything with noodles gets a ++ in my book. I ate pretty much everything you see here.
There is something about chinese food that ALWAYS makes me crave something sweet after ~ maybe it's the whole salty sweet thing. So, when we got home, I made up a lowfat Dreyer's Slow Churn Rocky Road Cone on a sugar cone (4 WWP)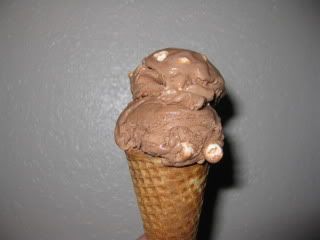 I LOVE cones (sugar cones are 1 WWP, plain are 0 WWP)! They make having a 1/2 cup serving seem like alot and of course they are FUN to eat!
I enjoyed the night off of cooking since I have been tired ALL week long. I am off to hang out with The Husband, read a little and relax.
ALL NATURAL CHOCOLATE CANDY BAR GIVEAWAY ~ Click HERE! I have to admit – this is one of the best giveaways yet.
Be sure to check out the Gnu Giveaway for your 1 in 3 chances to win FREE bars!