I think the best part of this week is that it's only 4 days long! Oh, and I started it off right with one of my new favorite breakfasts of all time thanks to K's Good Eats. I always drool every morning when she makes her VitaTop Parfaits. This morning, I decided to venture out and try my own version.
I broke out another one of my cute sample containers of Artisana Organic Raw Cashew Butter that I received from Premier Organics. This is ONE flavor I KNOW I LOVE – if you love cashews, you will LOVE this – it rocks! I am savoring every bit of my mini container and only used a little for my parfait today.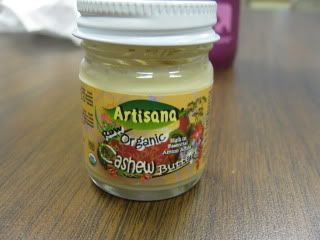 I found a new way to use my Margarita glasses 😀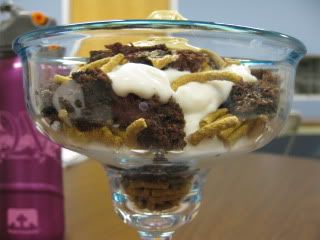 1 Double Chocolate Vitatop (1 WWP)
1 TJ's organic fat free vanilla bean greek yogurt (2 WWP)
a few sprinkles of fiber one or TJ's Fiber worms or even granola or kashi go lean crunch (0 WWP)
1 heaping Tbsp of Artisana Organic Raw Cashew Butter (1 WWP)
Layer everything back & forth with the cashew butter being dabbed on top = 4 Weight Watcher Points of Heaven!
OMG ~ This was absolutely amazing! K – you are a genius! Why didn't I try this out sooner?! I made sure I got a little bit of vita-goodness and cashew butter in EVERY bite.
Since I know you all want to work about as much as me, I thought I'd give you a little entertainment for today in the form of GIVEAWAYS!!!
* Amanda is having another awesome giveaway of Vegan "Heart" Thrive Energy Bars. Click HERE to enter.
* Hangry Pants is giving away Element Bars – they look amazing, like a Lara Bar ++. Click HERE to enter.
* Jackson'sworld is giving away Gym Soap. Click HERE to enter to get rid of gym stink!
* And, last but not least, Be sure to enter for your chance to win the Signed Copy of Hungry Girl's Latest 200 under 200 cookbook and T-Shirt. My contest ends tonight at Midnight (PST). Click HERE to make sure you entered all the ways you can.
My favorite VEGAN/VEG site, Veggie Terrain made some rockin' cheeseless VEGAN flat bread pizzas – you should totally check them out by clicking HERE….I LOVE cheese, but, these definitely make me want to add THIS to my meals for this week – Thanks JD!
Be sure to check back later as I have a rockin' new VEGAN recipe for lunch today!