Ok, one more fun picture from today ~ Here is Rachel and I after our afternoon walk. It was such a fun day and all the festivities really made the day fly by fast.
I still had a ton of things to do once I got home. I picked The Husband up and we ran our errands together (bank, scratchers/lotto, baking stuff and Walmart). I wanted something quick for dinner and this idea sort of came out of no where. I felt like my day was really lacking in veggies so that is what I based my dinner around.
I took the leftover Udon Vegetable Tofu Soup and added a bunch of frozen veggies that I steamed in the microwave first. The result was pretty tasty and I felt better about getting in about 2 cups of vegetables.
Here is a shot of my up close yumminess.
The Husband was having Trader Joe's Organic Roasted Red Pepper and Tomato Soup with grilled cheese. He likes us to eat the same thing so I compromised and made 1/2 my own grilled cheese using the Rosemary Potato Bread and Lite Cheddar Cheese I bought at Trader Joe's. It was so tasty.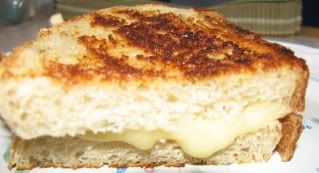 I felt good about not wasting my leftovers and coming up with another creative way to eat them. With dinner out of the way, I could move on to my Bake Sale Baking Trial #2 – Quick, Mock Girl Scout Cookies and Moon Pies….reviews coming up later tonight after my fun announcement!