The Husband and I decided to take a walk up to Starbuck's this morning before the temperature reached 104 degrees. We left at 10 AM and leisurely walked the 2 miles – it was sooooo hot already. It was totally worth it to me because I wanted to get one of the MUGS I told you all about last week. I was sooo thoroughly bummed when they said they ALL sold out last week and even the employees didn't get to buy one. I am so going on a quest to find one now especially since The Husband is on board with one too (he gets a Starbuck's daily!).
It didn't stop me from getting a Venti Black Iced Tea because it was seriously hot out. At that point I did sort of wish we drove so I could go to another Starbucks to get a mug LOL.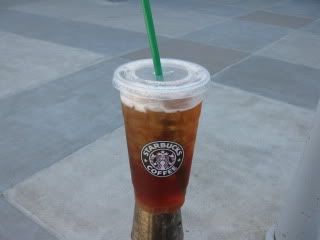 On our walk back, we saw a bunch of kids and a roller skating girl running through the city fountions. For a moment, I ALMOST said let's do it….then I remembered, ya, um, white tank top, not such a good idea LOL.
We pondered some vacation plans for Memorial Day and for June as we walked. We are heading to Las Vegas and to check out the Grand Canyon in June – yeah! We we got back we snacked on some more BBQ PopChips while we cooked lunch.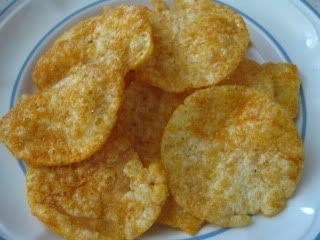 I made up an awesome fast, White Bean w/Bacon & Pesto that was in the BL 30 Day Jump Start book. This one is a total keeper especially since we were able to eat it on a 100+ degree day.
Add 1 tsp of olive oil to pan along with 6 oz of chopped canadian bacon. "Fry" until lightly browned, remove and set aside.
In the same pan, add all the following and saute for about 5 minutes:
2 tsp olive oil
1 large yellow onion, chopped
1/2 cup chopped carrots
1/2 cup chopped celery
Add in and cook for 1 minute:
1 Tbsp minced garlic
1 tsp fresh thyme or 1/2 tsp fresh time
Add 32 oz chicken broth and bring to a boil
Add 3 cans of white beans (I used 2 white bean and 1 garbanzo bean) and your 6 oz of chopped canadian bacon.
Simmer for 5 minutes, remove from heat, top with 1 tsp pesto and serve.
You can find 2 of my favorite pesto recipes by clicking HERE and HERE.
NI: Makes 8 1 cup servings, per 1 cup – 180 cal, 13 g protein, 22 g carbs, 2 g sugars, 5 g fat, 2 saturated fat, 15 mg cholesterol, 8 g fiber, 470 mg sodium ( 3 WWP)
Along with my soup, I had 1 cup of watermelon.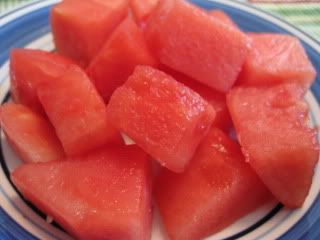 I knew this would fill me up so I didn't even make the broccoli side salad that the book called for. All together with my pesto before I stired it in and some cool fizzy water.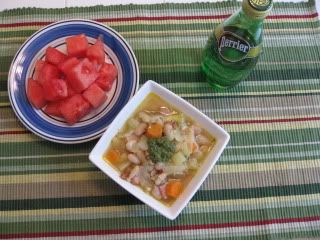 This afternoon I was really craving something sweet and nutty. I opted for a Triple Chocolate Vitatop that I got at the HG Book Signing topped with 1 Tbsp of organic crunchy PB – sooooo decadent and good! This is a great 3 WWP treat feels like you are having something bad for you.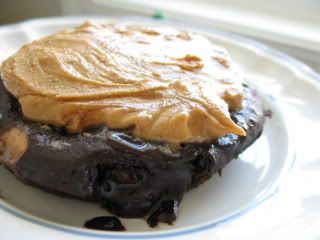 Can I just say it's sooooo hot today?! I am glad we decided to stay inside all day long and I forced myself to relax. I did such a great job checking things off my list that I felt like I earned it. I read a magazine and finished the book I was reading with some of my favorite WW friends ever ~ Bikini Season ~ LOVE this book! It's an awesome summer read.