I am the type of person that just goes, goes, goes and I rarely take much more than an hour to sit down and relax. (Not sure if you all noticed that yet or not.) Today I was reminded of why I don't do that too often – it makes me want to snack like crazy! Do you all have that problem? The Husband broke out a bowl of Annie's Organic Bunny Snack mix and I found myself digging in too.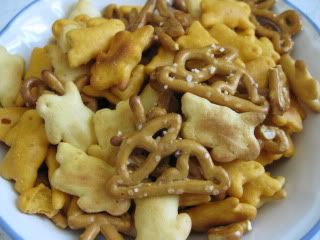 Luckily you get 45 pieces for a 3 WWP serving. I stopped when I realized I was eating it just because it was there!
Dinner tonight was simple and fast since neither of us felt like cooking. I started off with 2 oz of grilled chicken that was marinated in a ginger/garlic marinate.
With another 3 WWP serving of the Confetti Couscous – this is just as good the next day – LOVE it!
And some cool, crunchy sliced cucumber with sea salt and freshly ground black pepper.
The one good thing about the weather being soooo hot is that I drink a ton of water and feel less hungry. I had my dinner with my Nathan Bottle full of iced cold water.
I am content and full even though we ate at 5:30 tonight. I think I am craving just more water because I want something cool – I am not hungry so I do not need to eat anything else. I'll let you all know in the AM if my brain wins the battle or not!
Have a great night ~ I am off to pick out another book to read.
Do you have a favorite book you think I should read? I am always looking to expand my stack of books.