Happy Memorial Day all! I hope you all are enjoying your day especially if it is a long weekend for you. I LOVE holidays especially when they mean you do not have to go into work. I am really glad we stayed home this weekend as it has allowed us to get so many things done.
Sorry for the delay ~ I downloaded Internet Explorer 8.0 this morning and it has been giving me serious grief in not letting me paste any pictures – ack! I think I have it all fixed now so I should be good to go.
To start things off this morning, I decided to join The Husband and have a a Holey Donut. He opted for another Gigantic Reduced Fat Cinnamon Roll like he had yesterday. I decided to try the Low Fat Vanilla Crumb. One LF Vanilla Crumb donut is 148 calories and ONLY 3 Weight Watchers Points – woohooo!!!
OMG! This donut was seriously amazing. It tastes just like a Krispy Kreme – all warm and soft from the microwave, but, so much better because it is doughier (yes, it's a word!) and not greasy at all. I LOVE the bread part of these donuts – it's soft and sweet like the hawaiian sweet bread but with a great donut taste. I seriously pondered licking the plate to get all the vanilla icing up 😀
To balance my breakfast out a little bit, I added a small banana.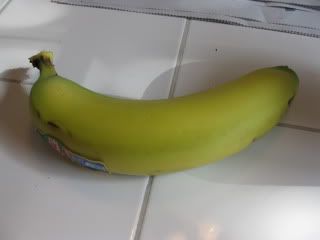 Not bad for a 4 WWP breakfast that seemed like a total treat.
After breakfast, I got right on to my todo list. I headed out to pick up some BBQ stuff for The Boys and did a little fun shopping for me (new Sun Tea Jar, Coffee Maker, Memorial Day Tank for $3, etc).
When I came back, it was time to make up the "Wienie Roast" for The Husband and his friend. They are finishing all the concrete prep today – Yeah for ME not having to do that anymore! They both LOVE hot dogs so here is the spread I laid out for them with every fixin' I could think of.
I made up a fun lunch for me at the same time. I decided to give the 3 WWP/140 Spinach Pizzas a try that I found at Trader Joe's.
The nutritional stats are pretty good too – you can recognize EVERY ingredient and I LOVE that!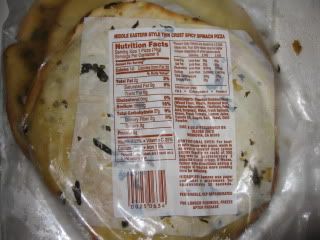 I knew I'd have to share so I made up 3 pizzas and cut them all up.
I had 1 pizzas worth (4 slices – minus 1 that I taste tested). I LOVE these – the flavor reminds me a bit of the Bolani Breads. It was a fun addition to my meal.
While their wieners cooked, I grilled up a Trader Joe's Chile Lime Chicken Burger (3 WWP). These are so awesome, I highly recommend them if you try any chicken burger. They are 100% clean, easy to make and you can cook one at a time. I topped mine with ketchup, spicy mustard and cucumber chips – so good!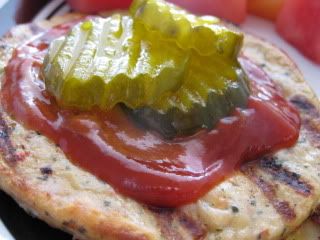 To round out my meal, I had 1 cup of watermelon and cantaloupe.
My lunch was so satisfying for 7 WWP and I didn't even feel as though I missed out while they were crunchy away on chips – yeah!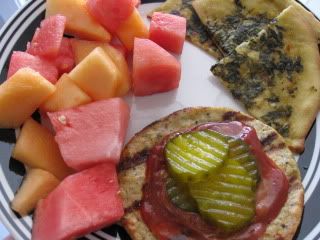 While they were slaving away breaking out our steps, I decided to make them some Double Chocolate Chunk Cookies.
Did I ever tell you we bought our house as a fixer upper and have been doing that for the last 6 years. We are on the home stretch now. I will show you before and after pictures at some point so you all can see all we've done – literally everything from top to bottom.
Before I head off, here are a few pictures of all they are digging out today. You can see how little we got done on our driveway, but, the guy with the tractor comes tomorrow to save the day. He said it will only take like 30 minutes to do what took us like 2 days. This is where our front porch and steps "used" to be. Click any image to make it bigger.
I am off to play around on the computer working on my new blog layout while I watch the Food Network ~ Ahhhhh! So awesome. I am pretty sore still from all the manual labor we did this weekend so I may just go for a walk and do some light yoga (gentle hatha) for stretching.
See you all for dinner ~ We are grilling out for Memorial day – yeah!